10 Reasons I Signed Up For Yoga Teacher Training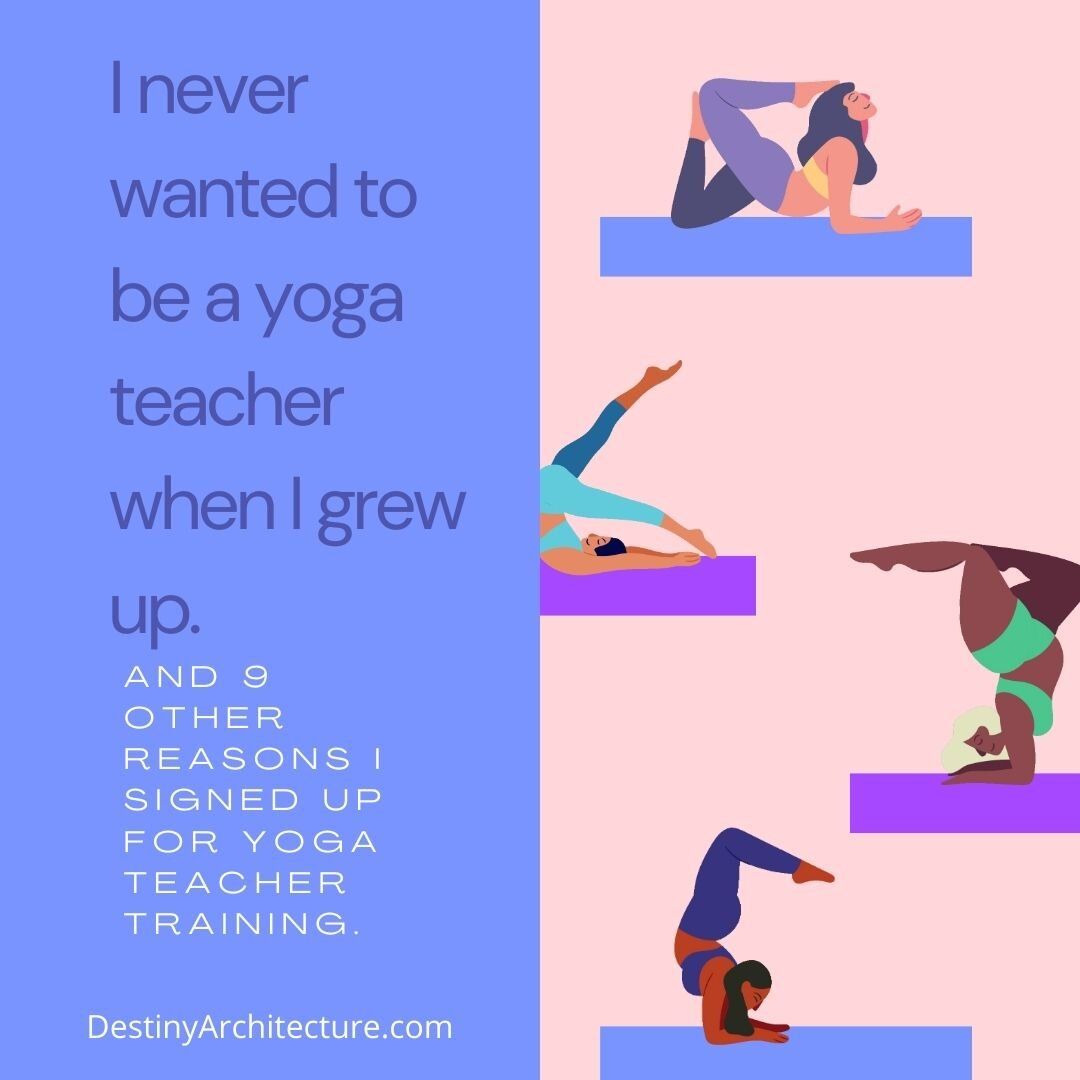 Aside from the obvious — like I have always wanted to and I have loved yoga through good times and bad, I decided to explain the reasons I personally chose to sign up for yoga teacher training. Not just that, but why I decided NOW is the time, right in the middle of a global pandemic. It doesn't seem like the most appetizing time to sign up to learn how to teach an art that is about UNION when we're all hiding in our homes. Plus, where I live, in the "United" States of all places, we are hardly "united." There's no union here. No peace. None of the principles of yoga are at play in this society. Maybe it's time to create some.
We aren't getting any younger
I'm not waiting until after the pandemic is over to do a lot of things. I don't remember how old I was when I decided I was interested in taking a yoga teacher training program. I just know that was a long time ago… I'd look at the YTT programs available at whatever yoga studio I was attending at the time, see the price tag, and wander away from the idea.
The pandemic did put many things into perspective and so I decided it was time to start tackling the unfinished business on my mental bucket list.
I'm not talking about all the ridiculous stuff you put on your "Vision Board." I'm talking about the things that truly speak to your soul that you really desire to do and experience in this life. For some, it may be starting a family. For me, I realized, "OMG I could die of a virus any day now and I will have never gotten my yoga teacher training in." So I signed up.
It's online and I can do it from home — Part 1
What's another Zoom meeting, right? Work meetings...coaching calls…friend meetings... Why not add yoga teacher training to the mix in my online life. I am not going to miss this opportunity to spend all my extra time locked indoors this winter doing yoga. May as well learn to teach it, too.
Yoga teacher training is online/from home — Part 2
The big reason I'd never taken yoga teacher training before is I'd always had some crazy job with stupid hours. I learned a long time ago YTT was going to involve evenings and weekends. I've worked most of my life during those hours — or very often so early in the morning that anything after 6:00 p.m. wasn't happening. I'm taking an online program that's self-paced. I can figure out whether I do it in the middle of the night or all day on a Sunday.
The cost is finally NOT prohibitive!
My teacher, Steph, keeps her prices low and even offers a payment plan. I figured there's no reason NOT to. You don't have to pay what is now thousands of dollars to get your 200-hour yoga teacher training done. I think it was $1,200-1,500 the first time I looked into it and that had to be (almost) 20 years ago. Some programs I looked at earlier this year were up to $5,000. Since I'm certain I will continue learning and taking teacher training programs, I have no problem saving for right now.
Online isn't for everyone for yoga teacher training. But it is FOR ME.
I attended Boston University online way back in 2007. This was before online learning was cool or common. I think I was in BU's second ever online learning cohort. I'd done a self-paced screenwriting class in community college twice. I knew I could learn on my own, stay disciplined, and motivated. I obtained my 100-hour Transformational Life Coaching Certification online through the Southwest Institute of the Healing Arts. Online learning is my JAM. Even for yoga. I was a latchkey kid and an only child; I got this!
There are no deadlines. I control my pace. This is actually good for me right now. My anxiety and PTSD have been horrible; I don't need more pressure in my life. I do tend to log on and binge material, then go light or not at all the next day. And that's all fine. No one cares. I'm following my own path. If I'm tired, I study more words and anatomy. When I'm energetic, I bounce off the walls creating yoga playlists and vinyasas. Balance.
That anxiety I mentioned…
I did make myself one deadline — I decided I'd have to enroll by mid-September in yoga teacher training. Of course, high anxiety hit by September 1st. Then two friends got Covid, which was terrifying on top of the anxiety. I did finally sign up on September 16th. It gave me something to help with anxiety, along with therapy, meditation, and support from friends. Then a friend took their life. Then a friend died from covid.
To say I've been a hot mess since September would be putting it mildly.
Deepening my practice was the original goal in wanting to take yoga teacher training. Breathing through all this PAIN is putting my yoga practice to the test. I've been practicing since I was 16 and purchased my first yoga paperback with my coffee shop job money. It's 25 years later and every time I step on the mat still feels like the first time, still feels challenging, and still tries to teach this former addict the most fundamental lesson of life — breathing through the discomfort and pain.
I wanted to learn the spiritual stuff in depth
I mean, I guess I could have just purchased the Gita and read it on my own…? I guess I wanted the full instruction so I can put it all together and create a lifestyle for myself centered around yoga. That means the spiritual aspect, too. Yoga isn't for fitness. (Spoiler alert). Yes, it helps my sciatica and probably tones my ass. But let's flex my brain too and learn some SUTRAS.
I didn't want to be a yoga teacher when I grew up. Part 1…
Ugh, I am so predicable! You can take yoga teacher training without wanting to become a yoga teacher when you grow up. Years ago I figured out that you can sign up just to learn yoga in depth, and that's what made me want to do it. I had a career and I didn't see myself teaching yoga.
But I signed up to learn Reiki and ended up going all the way through to Master and opening up a Reiki business.
This is why I say I am so predictable — because now that I am getting into yoga teacher training, I totally want to create my own classes with their own special vibe and theme! I guess I should go thank all the great yoga teachers I've had who make me want to be like them.
I didn't want to be a yoga teacher…Part 2…
The last thing the world needs is another white woman teaching yoga and being all wypypo about it. I think I can take most of the "white peopling" out of my future classes and bring something better to the yoga community. I'm already burning my "namastay in bed" shirt before I get caught… Oops, just told on myself! (Spoiler alert: all white women do tell on themselves, including me).
I want to bring a lot less "Lululemon" and a lot more, "Let's talk about Lord Ganesha for a moment today, class."
My friend who is a Hindu chaplain has already pledged her support in helping me understand the Gita, so I am hoping I can step forward in a way that honors yoga as it's meant to. Less fitness — more spiritually fit.
I am well aware this is my version of going off the deep end and having my annual mid-life crisis.
Cool. I'm good with it. It's fine that I'm becoming the "Eat, Pray, Love" chick. I'm the stereotypical person under high stress who finally cracks and devotes her life to yoga. I'm aware of it. I could do worse. Past years, I relapsed on booze (2012) and bought a moped I quickly crashed (2017?).
I'm going to just be a hippy yoga chick.
Well, I always have been that woman. So now, I'm doubling the fuck down on it. Meet up with me in Bali or the EU. It's cool. I see where this is going. I'm letting it happen. I'll eventually be that YouTuber who you run into at an AirBnB, co-working space, or maybe Glastonbury. You know, when we have music festivals again… ;)