Yoga
Yoga is the absence of the fluctuations of the mind. It's not fancy pants, trendy water bottles, or a workout.
I've been practicing yoga since 1996 through all seasons of life. Through a hard youth, addiction, joy, grief, several stressful careers, a midlife diagnosis of asthma, and through every twist and turn a spine with scoliosis could produce—yoga was there.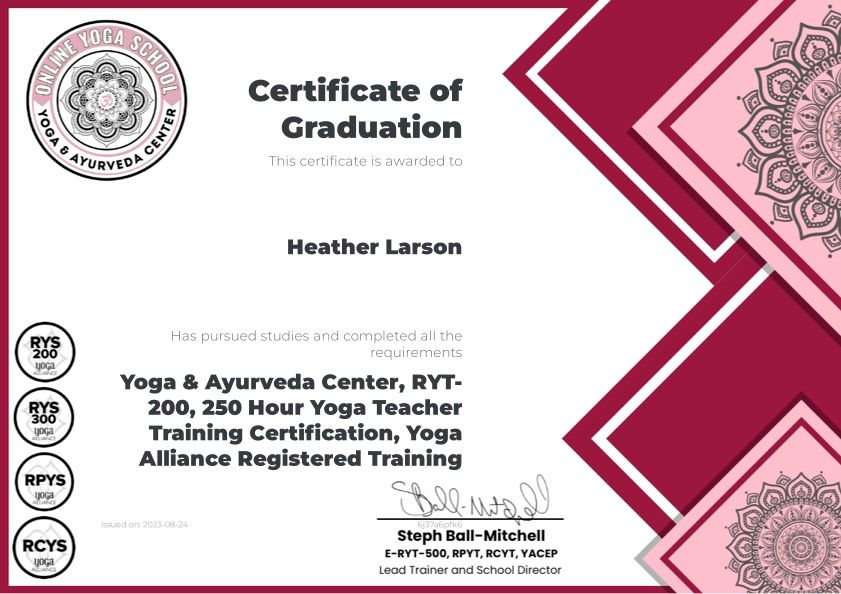 I could start with a photo of me posing as a yogi in some gorgeous pretzel pose, but I won't. My RYT-200 was earned through the pandemic—I was working a stressful broadcast news career when I signed up. Then a bunch of people I cared about died (one even took his own life) and I began to get sicker and sicker. I finally got "it" 6 days after finding out an unknown "asthma" was making me sick. Western Medicine had failed me.
There's no reason I should still be here.
But I can say that about so many things I've survived.
Much of my yoga teacher training began off the mat. I also veered off course into meditation teacher training (because of or in spite of my physical state). It became a 3-year yoga teacher training path and I'm so glad!
Looking back, perhaps this was the only way to bring me to the transformation I'd kept fighting. Yes, me, a certified transformational life coach. 😉
See, we all have blind spots. Yoga tends to root those out.
So there won't be pretzel poses here.
Here's What to Expect From Destiny Architecture® Yoga:
🧘‍♂️ Asthma-friendly yoga (no incense, sage, or candles burning unless we all agree we want that at an in-person class with proper ventilation).
🧘‍♂️ ALL bodies are welcome. I'll do all I can to accommodate anyone who wants to practice yoga.
🧘‍♂️ Bodily acceptance > "body positivity."
If you've ever had a chronic health condition, gained weight, lost weight, not liked what you saw in the mirror, dealt with an injury, or learned to live with a disability—you get it. You know acceptance is more fulfilling than some idea of trendy "body positivity."
🧘‍♂️ All skin is welcome! I have the worst case of eczema you've ever seen. Come on in with your skin looking however it looks. We can be different together and learn to accept our bodies the way they are.
🧘‍♂️ I'm endeavoring to continue learning about how I can become more trauma-informed around yoga, Reiki, coaching, and meditation.
🧘‍♂️ Destiny Architecture™ yoga supports sobriety and whichever path you choose to get there. You're welcomed whether you're old & sober; newly sober; on MAT; 12-stepping; NOT 12-stepping; choosing moderation with the Freedom Model; or whatever your path to living a sober & recovered life may be.
I'm here to help you choose life with the nurturing, challenging, and ultimately healing path of yoga.
I've been sober since 7-1-13 and worked for 4.5 years in the addiction field. I've seen a LOT. It's my personal view that yoga gives us an endlessly available set of tools to help us live full lives in sobriety. 💚
Join me for yoga by seeing what's going on on my events page.