🌟 Build Greater Mind-Body Wellness in 10 Weeks⚡️ The Destiny Architecture Blueprint 8/21/23
Announcing a new yoga class in Wichit I'll be teaching, 2 openings left for my 10-week mind-body wellness coaching program, and a new digital download in-store!
Announcing a new yoga class in Wichit I'll be teaching, 2 openings left for my 10-week mind-body wellness coaching program, and a new digital download in-store!
Thanks for attending my first yoga class!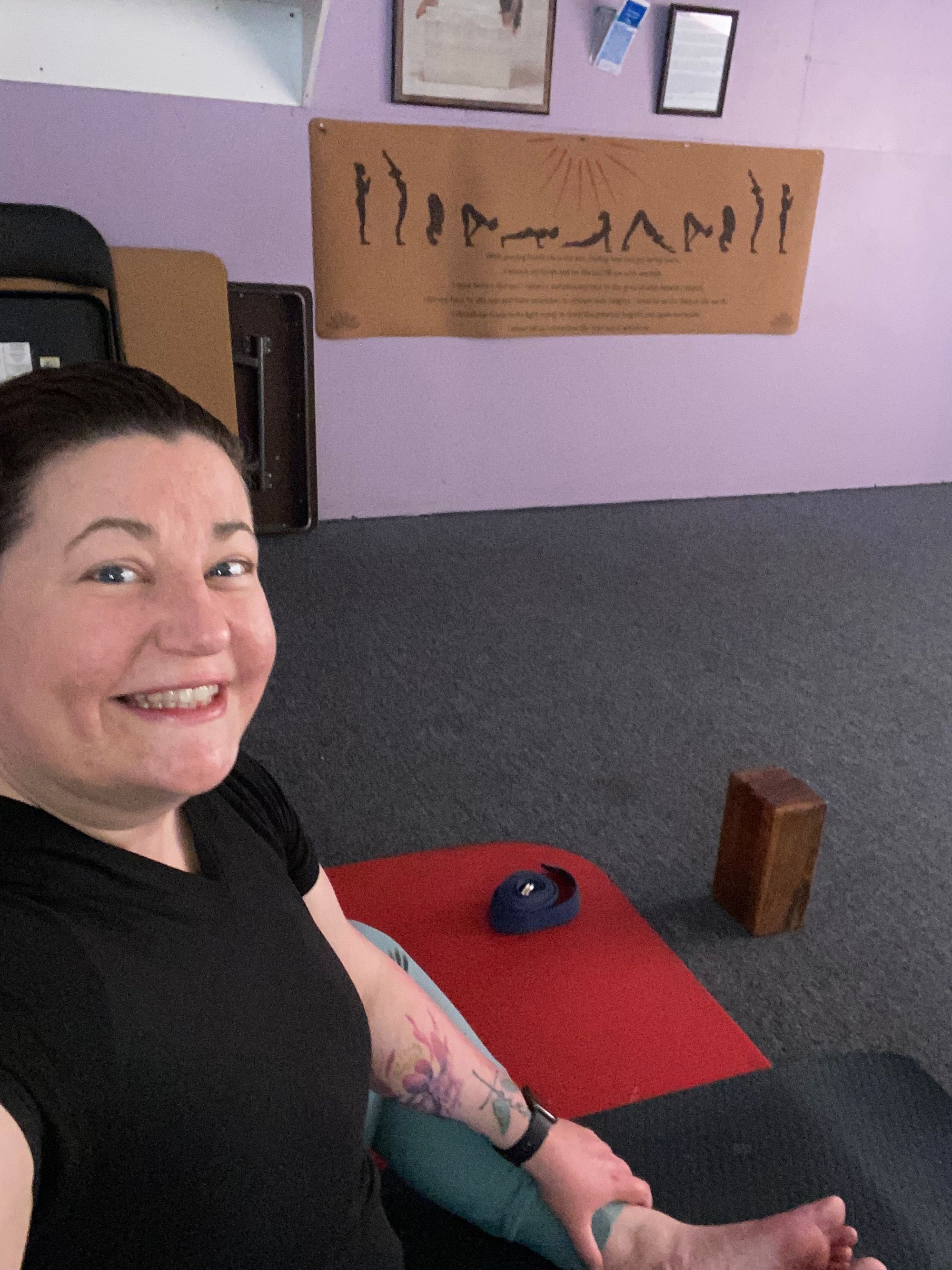 Thank you for coming to my first yoga class at White Dove on Saturday! It meant the world to have a class of two people to teach. I'll be teaching again this Saturday at 11:00 am! Thank you to Dale for giving me space to teach (and about 9 years of mentorship if I'm being honest!)
Limited Space Available for The Destiny Architecture™ Mind-Body Wellness Program: 10 Weeks to a New Lifestyle
I'm telling you I tested the form in last week's email SO many times and it worked every single time—except when the email hit inboxes! 🤣 (I did NOT mean for that big, blank space to just sit there, I promise).  
If you're interested in getting into my fall program of intense one-on-one coaching for a complete and total life change, visit this page. I have two spaces left!
Why intense coaching?
You're too busy to figure it out on your own, you need help, you're overstressed, and you just want to feel better. You want to stop treading water and dividing your attention in 1,000 different ways. You have a hunch mind-body wellness goes beyond "staying hydrated from a trendy water bottle."
🚨 Spoiler alert: IT DOES.
You want to meditate but struggle with getting past 2-5 minutes of practice. You want to do yoga but can't get consistent. You know you need to FREAKIN' RELAX—but you need help getting there.
My 10-week Mind-Body Wellness Program allows me to bring my years of experience in coaching, Reiki, meditation, and yoga together to help you transform your life. You'll be able to:
Find focus, clarity, and discipline
Set & meet your goals
Discover your priorities & values
Lower your stress
Build better habits
Increase your self-care
Experience more balanced moods & emotion
Grow your self-awareness for a life of more fulfillment, connection, better decision-making, and overall skillfulness in life
Get one-on-one time with a professional coach, Reiki Master, Yoga Teacher, and Meditation Teacher. Work privately with me on personalized yoga, meditation, and Reiki practices personally suited for you so you will get practicing and stay practicing to reap the benefits.
Deepen your spiritual practices: Reiki sessions, meditation instruction, and yoga instruction are included!
I have space for 2 more people! If you want in, fill out this form to get started today. Plus, early bird pricing will save you $400!
The Question I Get Asked A Lot...
In years of yoga practice and Reiki sessions, I'm asked about kundalini energy a lot! 👇
Next Reiki Session In Wichita Is This Saturday, August 26th!
The final Saturday of the month brings you chakra-balancing Reiki at White Dove in Wichita! See me this Saturday, 8/26, at White Dove from 12:30 pm to 4:00 pm.
I'm teaching yoga from 11:00 am-12:00 pm and will be offering Reiki sessions afterward. So yes, you can make a whole healing & spiritual day of it!
We'll also have an Oracle card reader in store from noon-4. This weekend, it will be Theresa. 🔮
If you can't make it into White Dove, reach out to me via email or the website to link up for a Distance Reiki session.
Here are the Reiki dates for the rest of 2023:
August 26
September 2, 16, 30
October 21, 28
Off for November & December
I've also created an events page on the main site with all the info you need about yoga & Reiki—both online and in-person.
Half-hour chakra-balancing sessions cost $40. One-hour sessions are NEW and ON SALE right now for $69.
Also new is the Reiki Healing Pathway. Allow 90 minutes for this transformative healing session, including an aura clearing, healing attunement, and a Reiki session. The cost is $125.
I'm always available for Distance Reiki (Enkaku Chiryo) if you can't make it to an in-person session or want an energy tune-up outside my White Dove dates.
Walk-ins are always welcome!
White Dove is located at 2947 E. Kellogg (on the frontage road). You can always call us at (316) 262-3683 or email me directly to hold your spot at destinyarchitecture@gmail.com.
I accept cash, card, CashApp, and Bitcoin lightning ⚡️ payments.
---
The Destiny Architecture Blueprint is brought to you this week by Viome.

Fix Your Gut
Unlock a unique combo of personal insights, and food and supplement recommendations to improve your digestive and overall health.
Learn MorePowered by Swapstack
---
Try this 30-Minute Yoga Nidra Practice If You Have Anxiety
Charity of the Month for Ishvara Pranidhana: Stop Soldier Suicide
I love this cause as I have many friends who are veterans and I'd for them to feel that death is the only way out. To practice devotion & service in my yoga this month, I'm raising money for Stop Soldier Suicide.
I've raised $136/$200 so far!
I had been holding daily LIVE practices on Zoom through the first two weeks of August. But it wasn't the right time of day for me (and those who wanted to attend). Here's the scoop—I've ceased offering the live practices due to my schedule.
The good news is, I've created a list of ALL of those practices on YouTube! So you can watch them now and practice for free! There are 14 videos in total and two of those are yoga nidra practices.
Last week's newsletter ⬇️
New In Store: A Workbook To Bust Abundance Blocks Your Inner Child Created
I wrote this in 2019 and forgot all about it! (It's been a busy 4 years, no?) I found it for last week by accident and included it in the New Moon 🌚 manifestation journal for members.
Then, I went back to it again and rewrote it for 2023! It's now available for purchase in-store. If you need help changing your money story, give it a shot.
(So yes, if you're a paid member, you already have access to the 2019 version on the August New Moon Meditation page, which should be in your email too. And yes, if you pay for membership going forward, you can access it as well).  
Digital downloads are on sale all month in the store! There are some great journals and workbooks available if you love personal development.
The Latest Meditation for Subscribers:
I've been offering this month's meditations for FREE ⬇️
Please consider becoming a paid subscriber to access the New Moon 🌚 Meditations (live practice on Zoom, video recording you can watch later). It's just $4.99/month! You get a weekly guided meditation, the new moon meditation, discounts, and more.
Curated Mind-Body Wellness Content

Death meditation is a new trend—no grim reaper required. I think this is interesting because it sounds similar to the idea of writing your own obituary. There are many things we can do to become more "comfortable" with death, which is definitely a subject often seen as "taboo" in Western society.
The article mentions exposure therapy, which meditation is NOT. In fact, if you want to try exposure therapy, you should work with a qualified professional (a licensed therapist).
---
Learn about life coaching here.
Learn about meditation and give it a try. Sign up for the meditation membership here.
Listen to (and follow) 385+ episodes of the Destiny Architecture podcast.
Snag software discounts, my minimalism eBook, and more.
Need an eBook on personal development or a life coaching worksheet?
Have I helped you with something BIG in life? Spread the love and pay it forward with a testimonial! 😊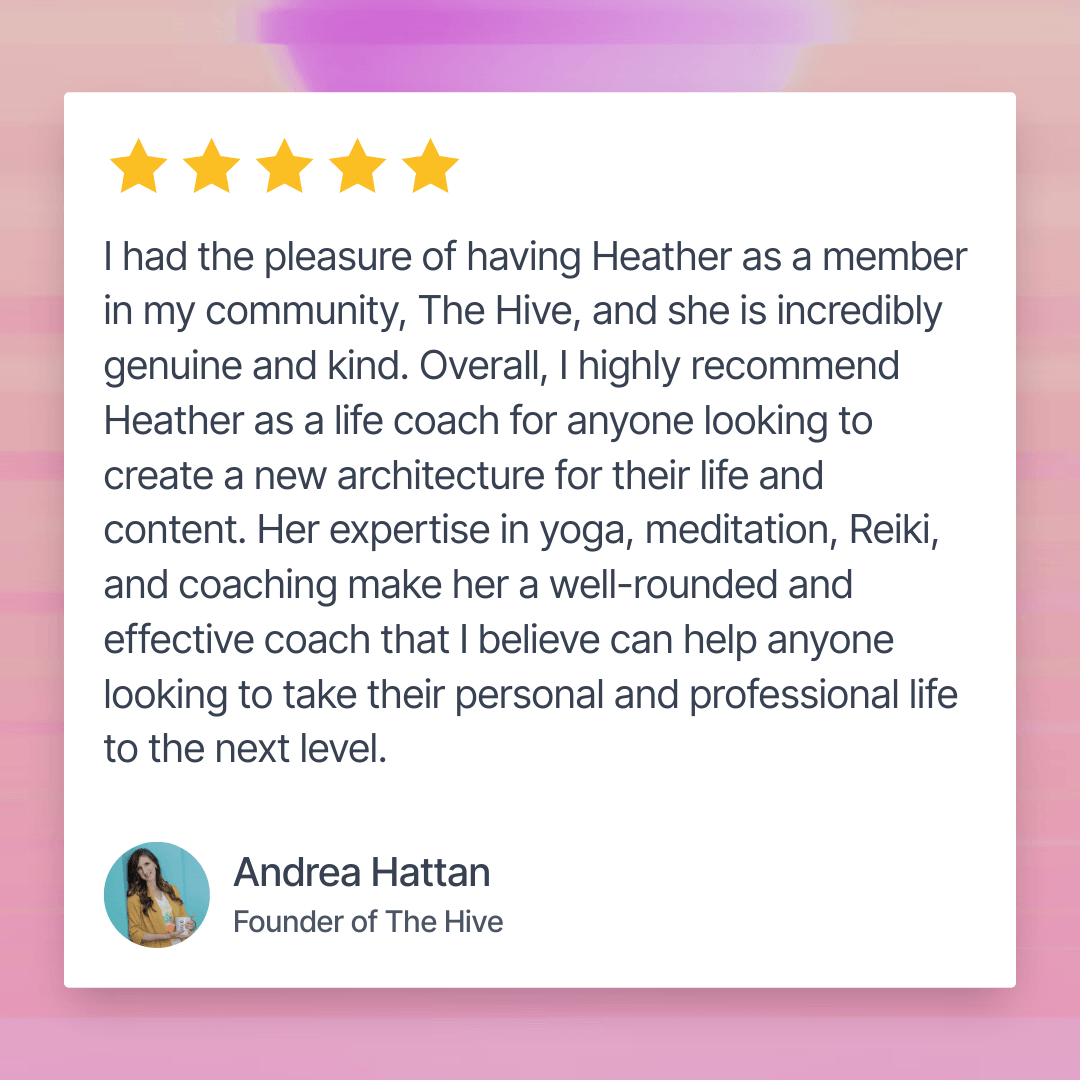 You can email me at destinyarchitecture@gmail.com.
Thanks for reading this week's Destiny Architecture Blueprint! This is the newsletter for content creators interested in personal development. I'm Certified Transformational Life Coach, Certified 100-hour Meditation Teacher, & Usui Reiki Master Heather Larson, and I believe being a side-hustling content creator requires a ton of great self-care: Reiki, Yoga, Meditation, and more. So join me on this journey by hitting the "subscribe" button!
You can always support this newsletter by leaving a tip. 🙏