Destiny Architecture Has Gone (Mostly) Paperless—Here's How You Can, Too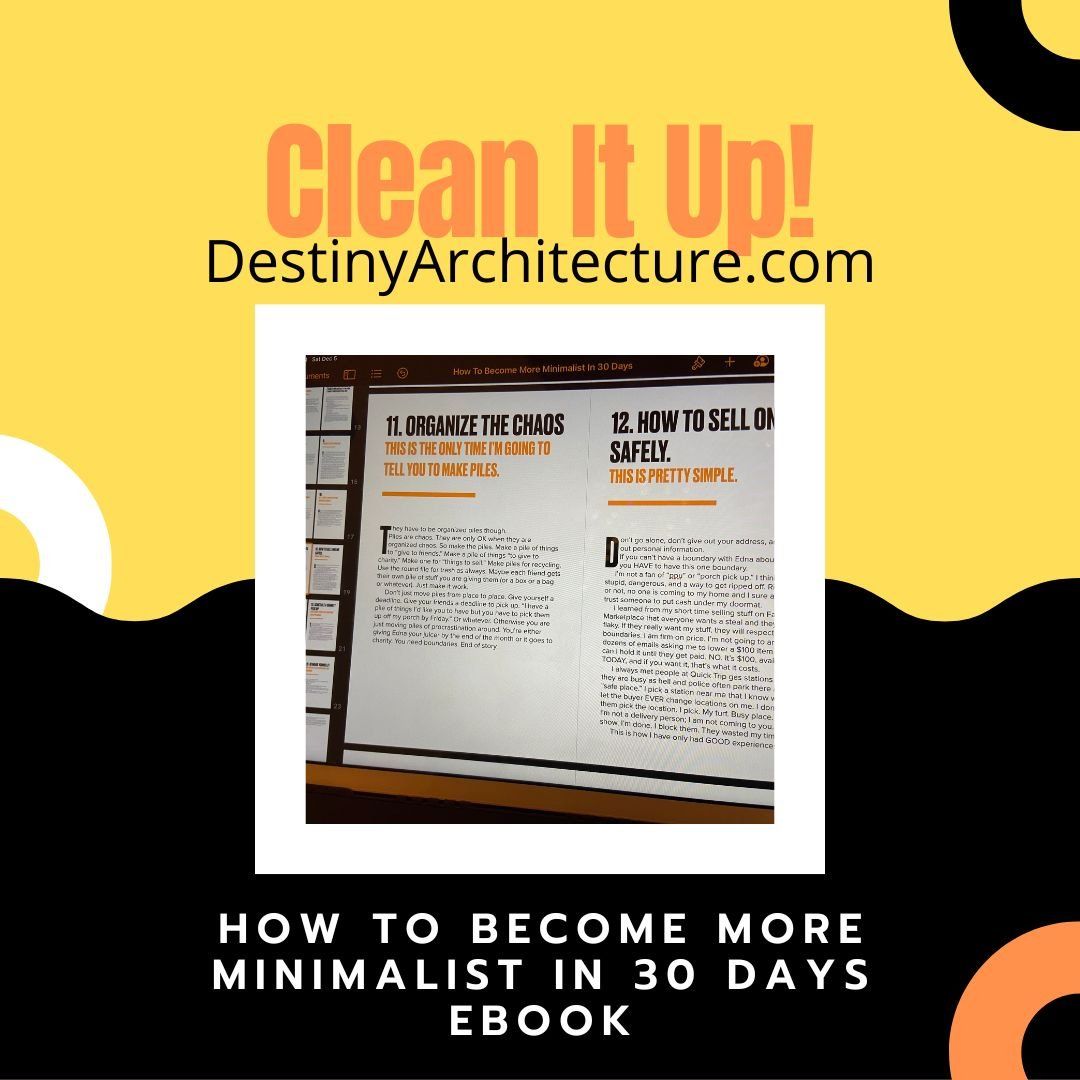 Not only did I bring Reiki back to White Dove over the summer, but I also tackled another big issue—going paperless.
When I started offering Reiki sessions and classes in Wichita in 2014, I was all about paper. I was raised on paper, so I didn't give it a second thought.
My paper trail:
• Business cards
• Flyers
• Paper waivers for new clients
• Worksheets for Reiki classes
• More flyers and handouts for clients…
Last winter, I decided it was time to deal with all that paper because it had become clutter. So, in the winter of 2021, I tackled seven years of paper client files. I'd been hauling them around in an expanding file for far too long.
I wasn't shocked to learn that one ream of copy paper, or 500 sheets, is equal to 6% of a tree. As a one-woman business, this could be 2-3 reams of paper per year for me. Destiny Architecture has been around using paper since 2016, so it's used almost an entire tree. I decided I could do better.
I don't want to cut down any a tree so my coaching, Reiki, yoga, and meditation business can exist! How about I let the trees live?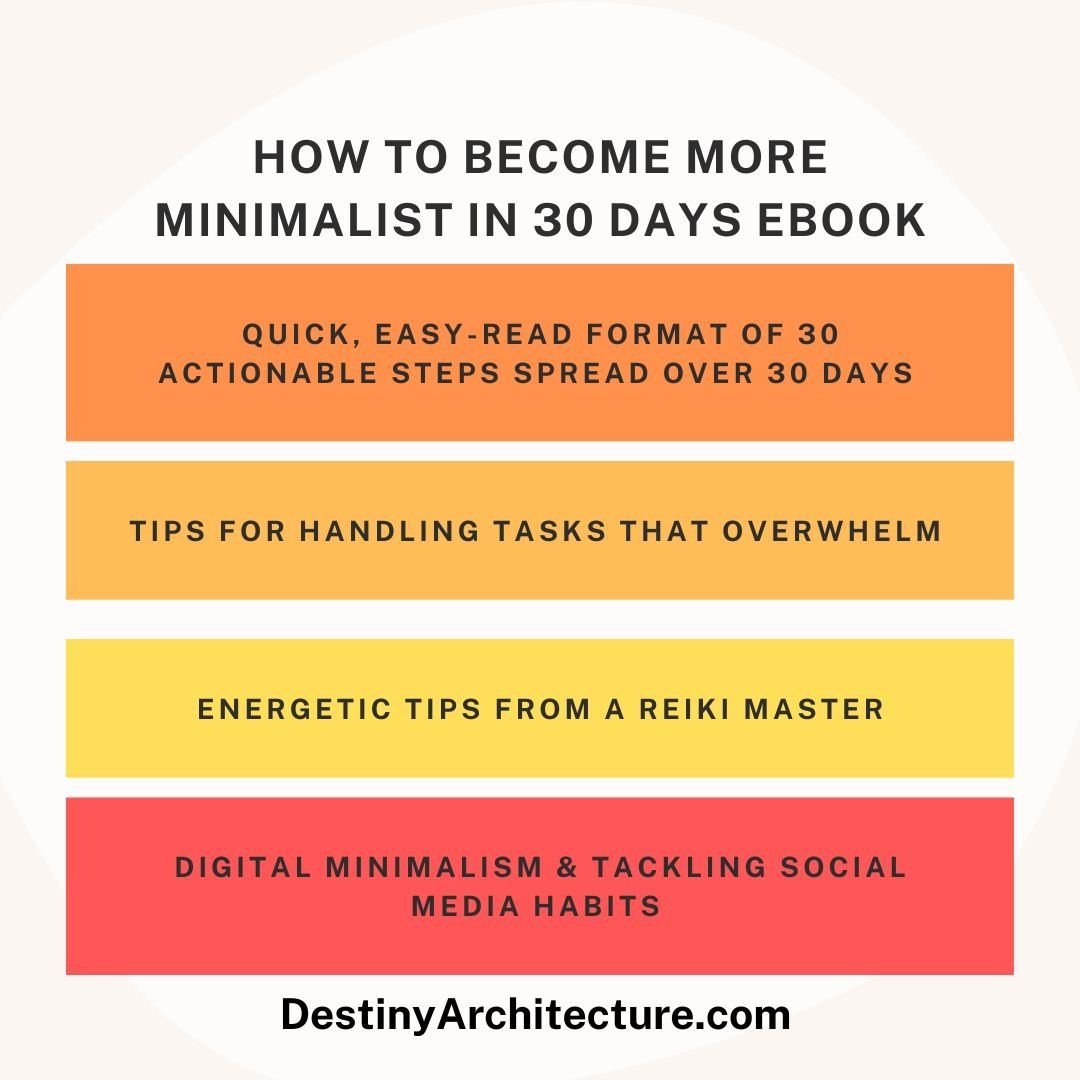 The Goal: Go As Paperless as Possible to Save Trees and Be as Organized as Possible
This summer, I started using electronic waiver software. If you've visited me for Reiki at White Dove, I've handed you my phone to fill out and sign your waiver. There is no longer an expanding file full of sheets of paper for me to organize and store. It's all electronic now and I feel like a modern human.
In my freelance writing business, there's no longer a need for paper to happen at all. I don't even take digital notes anymore. In my personal life, I still love paper journals for writing. I will probably always have one of those or at least a notebook for jotting down ideas with cool pens. But now I have a stack of 2022 journals and planners piling up…
Here's a plan for those personal journals and planners:
• I'll go through them and glean ideas; the goal here isn't to get sentimental, but to zoom out and look at everything from a place of non-attachment.
• Being objective, I'll turn anything worth keeping into projects with clear steps in Asana.
• Anything I want to keep a copy of for its visual value I can scan.
• The rest I shred for privacy issues (because we get dumpster divers here) and recycle.
Having good ideas written down means nothing if we don't organize them and execute them.
This is all part of decluttering, which is an important aspect of Saucha to me.
Saucha is One of Yoga's Niyamas
Saucha is all about cleanliness. What I'm talking about here is literal cleaning. But Saucha can also refer to the practice of keeping speech and thoughts pure.
It means:
• Keeping your yoga mat clean
• Keeping your yoga and meditation space clean.
• Practicing good hygiene.
Decluttering a not a linear path.
I become better at it as time goes on because I improve at letting go with every year. I came from a lower-middle-class background of 1980s consumerism—the garage packed with stuff, closets filled to the gills, and silly societal measurements of worth based on Guess Jeans. (The latter of which I couldn't afford).
I released "stuff" to the point of being able to move into 500 square feet. This was to get out of an unsafe neighborhood, and like most important moves in life, I had to do it before I was ready.
That purge was massive.
Now, it's labor-intense to continue to live in 500 square feet without renting a storage unit. But it's been worth it to live somewhere without shootings, fires, drug deals, and domestic violence. The choice was, "Live in a big apartment with all this stuff or downsize to escape the crime?"
It was a simple choice. In my eBook, I offer a 30-day plan to help you do the same. You can do this slowly and calmly or plow through it quickly. I designed it so you can do one decluttering task a day for 30 days. You can also do it all in one weekend. Your choice!
How to Deal with What Comes Up When Decluttering
I recommend you complete a task a day. Why? Because emotions will come up. You may get stuck in your physical stuff when the emotional stuff comes up.
That may be time for some self-care:
• Call your therapist
• Take a hot bath
• Phone a friend
• Journal what comes up
• Meditate on what comes up
• Move your body or do yoga to help process feelings and let them pass
You're going to have to process what comes up. You'll learn some things about yourself. Memories will come up. You'll realize the emotions behind keeping certain things. I keep ridiculous things in my box of memories that I will neither display nor release. I also have two bags of books in my trunk I have meant to trade in at the used book store for the past two weeks. Which means no one is perfect. The point here is to understand what you keep, why you keep it, and if you want to continue keeping it.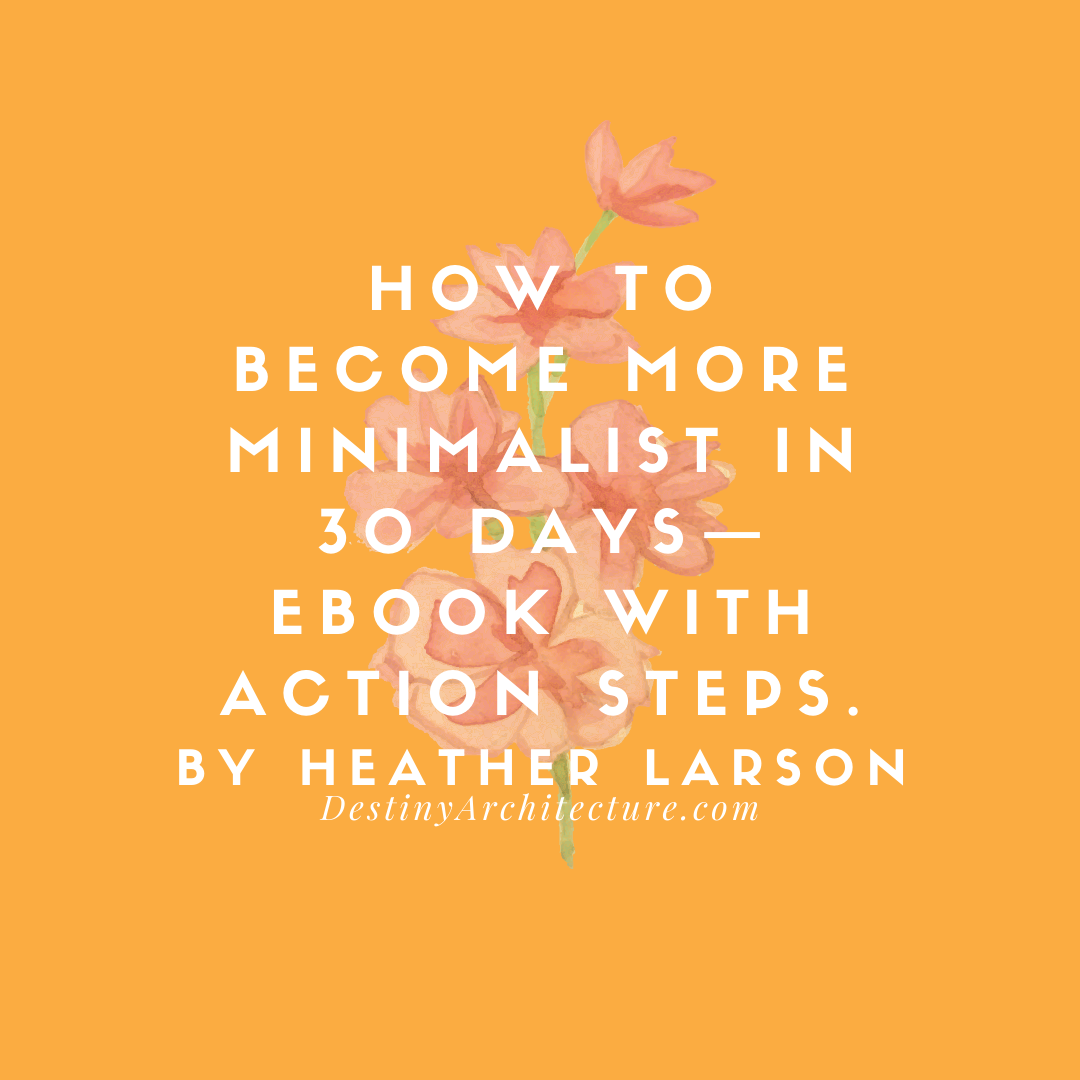 How To Become More Minimalist In 30 Days eBook  $9.99   document.querySelector('.product-block .product-block').classList.add('is-first-product-block');
Please download the book and them let me know if you have questions by coming back to the site to leave a comment on this blog or by filling out the contact form so I can get in touch.
Destiny Architecture may never be 100% paper-free, but I've eliminated the one thing that was creating the most waste most often—those new client waivers. I can't teach others to be the architects of their own destiny if I don't operate with both intentionality and efficiency. So please know I practice what I preach.