This week, we relax, unwind, focus on the heart chakra, and meet my new favorite non-profit! Also, let me explain what happens in November...
New: Meditation for Relaxing & Unwinding
Here's a way to relax by using meditation as your tool. Someone asked me for a meditation they can download and keep that will help them relax. Here you go!
Welcome to the World, Midwest Avian Foundation!
Last month, as I began my yoga teaching career, I chose to support Stop Soldier Suicide. (We raised $136!) This month, I highlighted my 10th year of sobriety to honor Recovery Month.
Now, I'd like to introduce you to the brand-new Midwest Avian Foundation!
If you've ever heard of Wichita's Eagle Valley Raptor Foundation, this is its rebirth after the unfortunate passing of Ken Lockwood. It's run by friends of mine, who also volunteered for years with Ken. They're having a blast getting this bird off the ground... 🦅 (Eagle coming soon!)
Did I mention we're a punny group? 😉
If you'd like to support the Midwest Avian Foundation, please like them on Facebook and visit their website. They were out at Open Streets ICT this weekend, which is where I filmed the video. They're happy to come out to your school or event to teach about Kansas' birds of prey!
Join Me For Reiki Sessions Throughout September & October
I'm offering chakra-balancing Reiki at White Dove in Wichita through the end of October!
I offer beginner yoga at 11:00 am at White Dove. Class is one hour and costs $7. After class, I can stay for whoever wants a Reiki session. (Or just stay and chat about yoga and Reiki!)
Let's take a look at the dates coming up for the rest of 2023:
September 30
October 21, 28
Off for November & December
I'll be leaving Wichita after October, so please stop by and say hello at White Dove soon!
I'll still be offering Yoga, Reiki, meditation, and coaching online as I begin a new adventure! I'm working now on the online yoga classes. Those are coming soon! (More info below).
If you can't make it into White Dove, reach out to me via the website to link up for a Distance Reiki session. I've created an events page on the main site with all the info you need about yoga & Reiki—both online and in-person.
Half-hour chakra-balancing sessions cost $40.
One-hour sessions cost $75.
The Reiki Healing Pathway lasts 90 minutes and includes an aura clearing, healing attunement, and a Reiki session. The cost is $150.
I'm available for Distance Reiki (Enkaku Chiryo) if you can't make it to an in-person session or want an energy tune-up outside my White Dove dates.
Walk-ins are always welcome!
White Dove is located at 2947 E. Kellogg (on the frontage road). You can always call us at (316) 262-3683.
I accept cash, card, CashApp, and Bitcoin lightning ⚡️ payments.
🔮 Saturdays at White Dove, We'll have an Oracle card reader in store from noon-4:00! Trista & Teresa are taking turns each Saturday!
---
The Destiny Architecture® Blueprint is brought to you this week by Paramount+! Which I actually pay for because I love the soccer docs and Fire Country.

Paramount+ is the premier streaming service for all things entertainment. With a vast library of hit shows, movies, and exclusive content, there's always something new to discover. From beloved classics to the latest and greatest, Paramount+ has something for every viewer. Plus, with new episodes and releases added all the time, you'll never run out of things to watch. Explore Paramount+ today and start streaming all your favorite entertainment in one place.
---
What Happens In November?
In November, Destiny Architecture® will go fully online (and I do hope to find a yoga and/or Reiki home in my new city).
Here's what's new & coming soon:
✨ A meditation course you can take to learn how to meditate on your own to create a sustainable, nurturing practice you love (which means you'll make it a habit and stick with it).  
✨ New content for Reiki practitioners to help with your Reiki practice and if you want to launch your own Reiki business.
✨ New content for spiritual entrepreneurs who want to create a presence online to draw aligned, paying customers.
✨ A monthly yoga subscription service in which you'll be able to receive my unique yoga practice videos to help you mix and match the perfect practice for you. It will cost $9.99/mo.
✨ New Destiny Architecture® Podcast episodes where I interview fabulous Destiny Architects are coming soon!
Here's what stays:
✨ You can still receive a Distance Reiki (Enkaku Chiryo) session from me online over Zoom or by phone. Same with private meditation and yoga instruction.
✨ Coaching programs also remain online.
✨ A new 10-Week Wellness Program will open up in December and start in January.
✨ Quality digital downloads like worksheets, ebooks, planners, and journals.
✨ Weekly guided meditations for members.
✨ This weekly newsletter, blogs, and online events like the New Moon 🌚 Meditation for members. 💕
Last week's newsletter ⬇️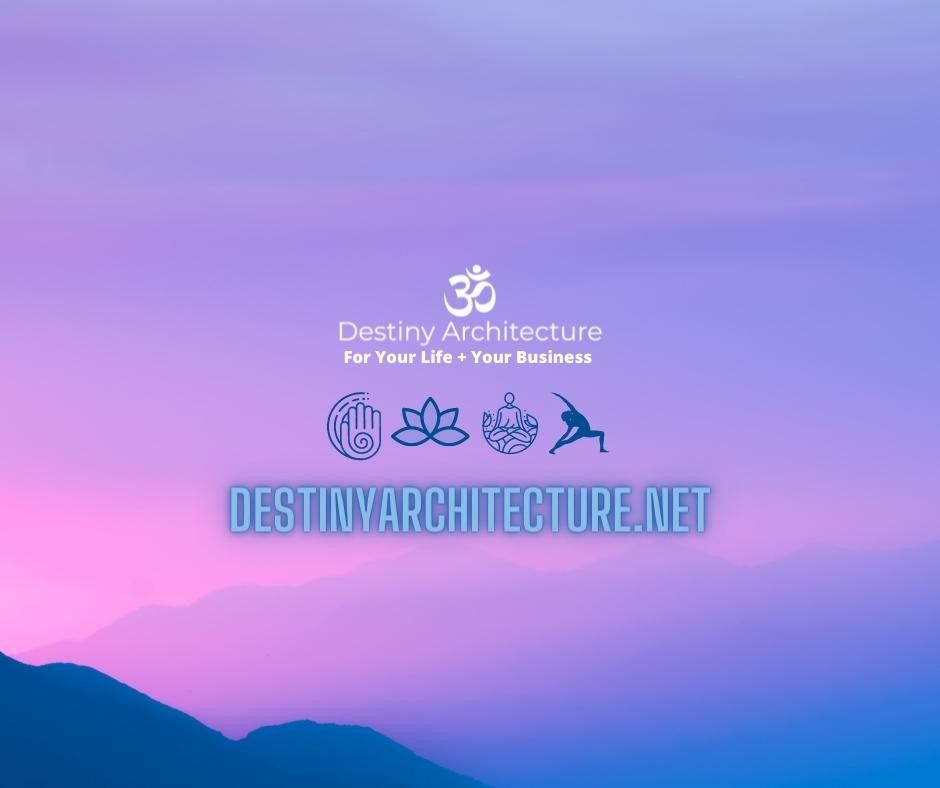 The Latest Meditation for Subscribers:
Time for everyone's second favorite—the heart chakra, or Anahata. I say "second" because I think everyone is after third-eye balance the most. But first, we have a couple of other stops along the 7-chakra system. Let's start with the heart.
Heart Chakra Guided Meditation—The Heart's Whispers: Unlocking Inner Guidance and Intuition with the Anahata Chakra
Here's September's New Moon 🌚 Meditation & Manifestation Practice for Members
These will be on-demand going forward so you can enjoy them on your own time.
Thanks for reading this week's Destiny Architecture® Blueprint! I'm a Yoga Teacher (RYT-200), Certified Transformational Life Coach, Certified 100-hour Meditation Teacher, and Reiki Master. I love sharing how these modalities helped me heal, find peace, and live my life to the fullest. They help me be my best for my family, friends, clients, and colleagues. They'll work for you, too!
-Heather Larson