How Those on the Healing Path—Who Are Drawn to Helping Others—Can Begin To Practice Self-Care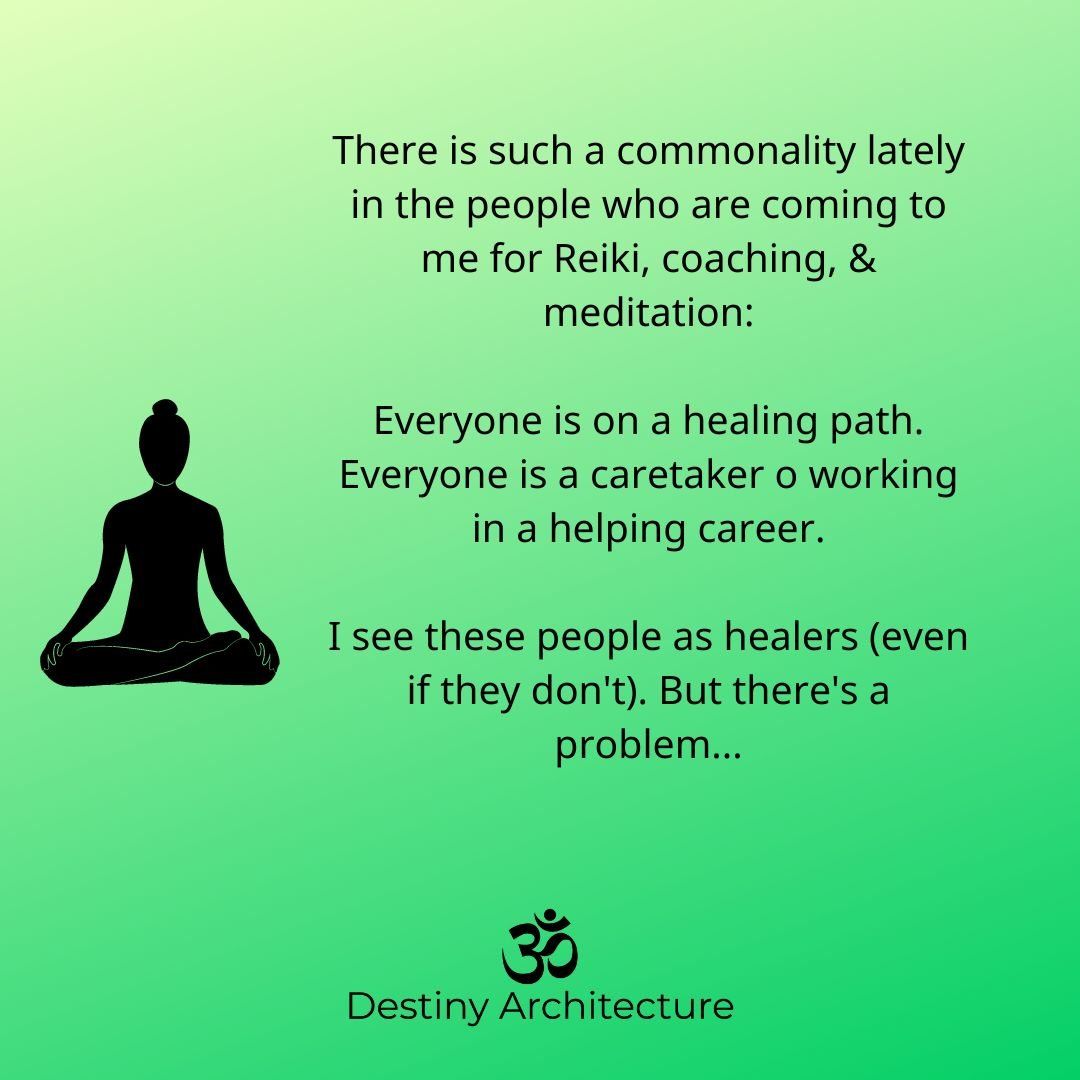 Everyone is on a healing path. Everyone is a caretaker o working in a helping career.
I see these people as healers (even if they don't). But there's a problem.
Many are lost. They forget to heal themselves first.
I've been there. 😧
I was the child in a family of dysfunction, helping the adults move toward sobriety (so I thought) as I became an alcoholic.
I ultimately chose a career (radio broadcasting) that enabled my partying. When I got sober in 2013, I chose a career that would enable my healing—the field of addiction.
By that time, I'd already found #Reiki and was on my way to #LifeCoaching.
The path was a bit muddy, but I eventually stopped trying to fix in others what needed to be healed within me.
Your mileage may vary.
If you find yourself drawn to "fixing" others...You're drawn to the healing arts...You're working in a helping career...You often find yourself helping or care taking...You're a drained caregiver...
You're probably a healer on a healing path...
Does this resonate with you?
If it does, you're the person I'm here for!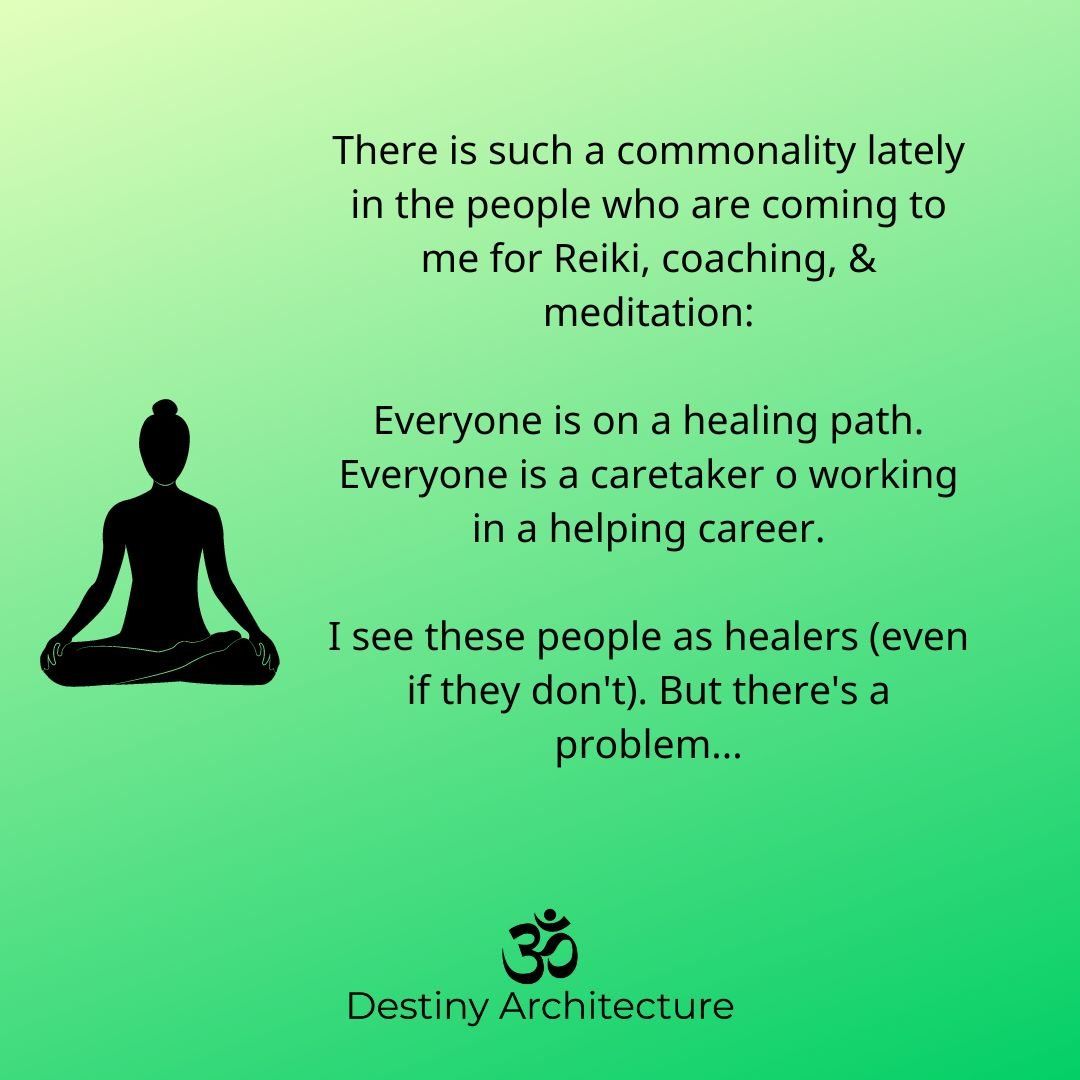 If you're consistently losing yourself in others, I get it. I've been there.
My path to wholeness began when I became a student of Reiki in 2012.
That's when my true self-care began. I wasn't yet sober off booze and codependency—but it was a start. I knew I needed something to help me deal with a stressful radio broadcasting career at that time.
I wasn't making a lot of money as a morning radio personality and I thought Reiki sessions were out of reach. That was something I desired on a weekly basis! But it wasn't in my budget. So I chose to take Reiki 1 from my teachers so that I could practice on myself. I was consciously making an investment in Reiki!
I didn't plan to take Reiki 2 let alone work my way up to becoming a Reiki Master.
I found what works for me: If you can't afford a Reiki session, then learn Reiki, practice self-Reiki, and get that self-care time in!
At the time, this helped me take the focus off others and put it on myself where it belonged. Looking back, I only wish I'd begun sooner!
How can you make this idea work for you?
Learn a healing modality like Reiki (though it doesn't have to be Reiki).
Practice detachment.
Find a hobby you can pour yourself into.
Learn to meditate.
Go deeper into your self-care and take it beyond face masks, salt baths, and chocolate cake.
I call those the "treat yo'self realms."
You may be treating yourself and there's nothing wrong with that. But the treat yo'self realms can come up short. These don't get results. Yes, we want results from self-care or else why would we do it? If I want to feel nourished, chocolate cake isn't going to do it.
Sometimes, treat yo'self can make us end up a little short on finances. I did this a LOT in my codependent years! I needed to treat myself—but I overextended my budget. I'd needed self-care so badly for so long that I didn't blink over expensive bath bombs, scented lotions, fancy face masks, and silky robes.
I even descended into the MLM space to try and support my habit.
It's important that our self-care is sustainable and supports us. Those are just some initial thoughts on self-care today. I have many more. But I want to see you practice sustainable self-care (knowing full well that the definition of it will change with time).