Today's Self-Care Regimen Is…Inexpensive and Simple!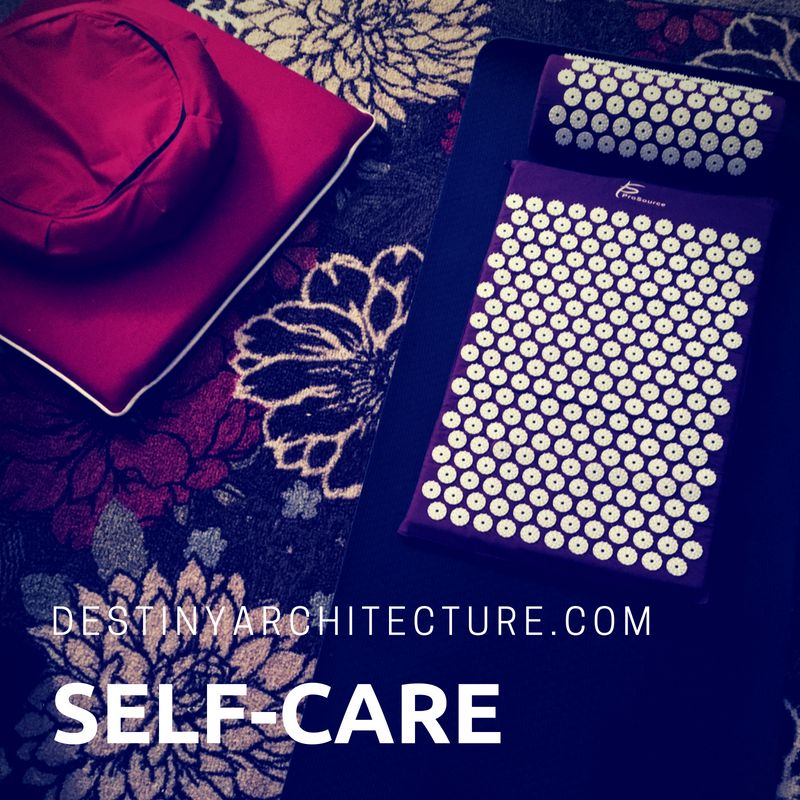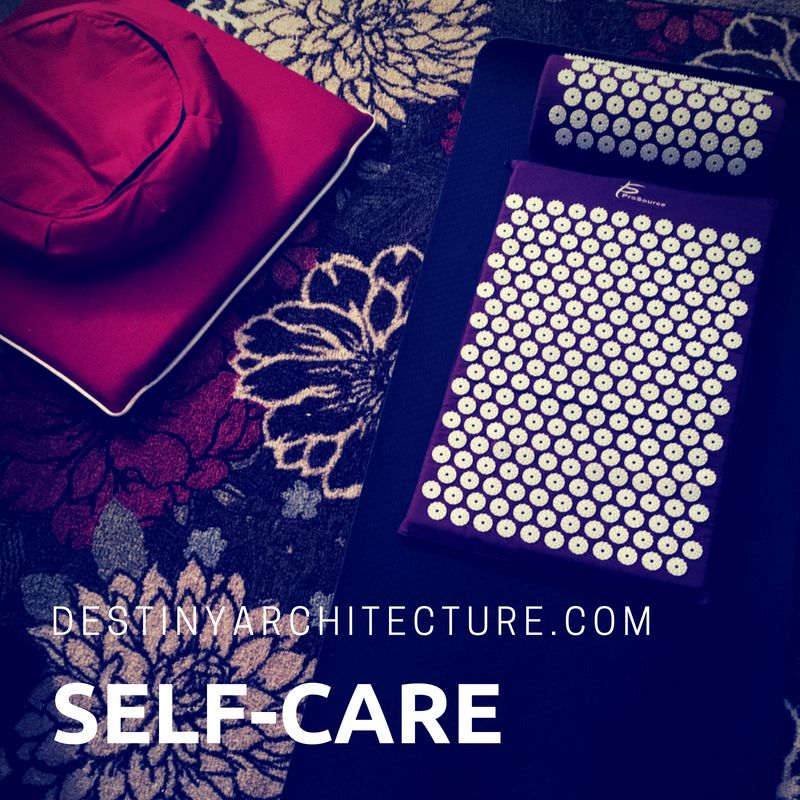 It doesn't have to be extravagant in order to be wonderful, life-giving, healing, and relaxing. To give an example of the breadth and depth of self-care I observe, here's what self-care means to me today, as the #DA30DayChallenge continues.
Get home and clean — briefly. I am on a mission right now to spring clean, declutter, and change up the energy of my space. Getting rid of the old to make way for the new. I've changed up the aromatherapy in my home to be uplifting summer smells — honeysuckle and sweet orange.
Yoga
Meditation
Laying for a few minutes on my acupressure mat (pictured) with tabla music playing in the background.
Making a healthy meal — tonight it's vegetarian beans & rice simmering on the stove with herbs and spices with vanilla pudding for dessert. Dessert is self-care, even better when it's home-made!
Writing time!
An online Refuge Recovery meeting. These are becoming increasingly important to me as I am enjoying and delving into the Buddhist path of recovery.
Iced tea. There's just something wonderful about brewing tea at home for myself daily. If you've got time for a cup of tea, you can do self-care!
My favorite self-care items list (for today anyway):
Here's the stuff I love to get me into my self-care routine, and yes, I am worth it!
Gaia TV, $10/month
YogaDownload.com
Tabla music by Tabla Beat Science (I love drumming)
Celestial Seasonings Watermelon/Lime Tea
Aura Cacia Sweet Orange Essential Oil
Seventh Generation Disinfecting Multi-Surface Cleaner in Lemongrass Citrus Scent
None of the above are expensive. Most of this I've done in three hours or so (not counting the online Refuge Recovery meeting on InTheRooms.com, which is free). Self-care doesn't need to be expensive. It doesn't have to take too much time. But it can be done. And it must be done.
Here's how to get into a self-care routine:
Prioritize your time and organize your values.
You can tell that greening my home is a priority because I'm scenting my house with essential oils and a wax burner along with Seventh Generation cleaner. You can tell yoga and meditation are priorities in my life — again, this doesn't have to cost a thing. But sites like Gaia and YogaDownload offer a ton of yoga videos for a modest monthly subscription fee. I get the Tabla Beat Science and other "yoga" or "spa" music from Apple Music — another $10/month service. Apple Music also has a generous selection of Kirtan and Reiki Music.
Obviously I'm not buying expensive tea — this is my favorite right now! It's been around 90 degrees daily here in Wichita. I grew up in Arizona, so this is almost (but not quite) pool weather for me. I may swim any day now. But for right now, I needed the yoga the most.
I owed myself some yoga. It was a silly energy day. I need yoga, Reiki, and meditation today! More than that, I had this crazy coughing attack on the drive into the office today. I couldn't stop coughing! I freaked out. I almost pulled over but decided that would freak me out more. It was almost a wheezy, asthmatic moment (I don't even have asthma). I felt like I needed to work on my breathing today from that point on. I found a yoga class on Gaia that centered on breathing.
Sometimes, rough days are the best days to turn off and do self-care
What did you do for self-care today? What do you need to do for self-care? Tell me in the comments! Take part and post on social media with the hashtag #DA30DayChallenge!
~Heather Larson, Certified Transformational Life Coach
Wichita, KS