🌟 14 Lessons From 10 Years of Sobriety + 6 Guided Meditations⚡️ The Destiny Architecture® Blueprint 9/4/23
The Destiny Architecture® Blueprint is your weekly dose of Reiki, Coaching, Meditation & Yoga!
The Destiny Architecture® Blueprint is your weekly dose of Reiki, Coaching, Meditation & Yoga!
This was the most popular yoga practice from August 👇
Enjoy a round-up of August's FREE guided meditations...
I shared these guided meditations for free through August to give you a taste of the meditation membership (which is only $4.99/month!):
🕉️ This guided Audio Meditation for a New Beginning will help you ease into a fresh start.
🕉️ Meditation to Clear Your Mind—Who doesn't need that?
🕉️ 7 Chakras Guided Meditation—for balancing the body's energy centers.
🕉️ Fires of Change Meditation—for leaning into change
🕉️ Enhancing Your Connection to Earth: Uncover the Healing Energies of the Root Chakra
🕉️ Flowing with Creativity: A Guided Meditation for the Sacral Chakra
...Coming this week, we'll move up into the solar plexus chakra! ☀️
14 Lessons From 10 Years of Sobriety
September is Recovery Month, so I'm sharing something I wrote this summer. It was supposed to be a simple blog, but I had a lot to say!
This is why we need to view sobriety through a different lens than we do...We need to view the steps toward sobriety as being backed by scientific research and respect this life choice knowing that 75% of us who recover are capable of staying sober for the rest of our lives.
Read part one, two, and three of the sobriety series.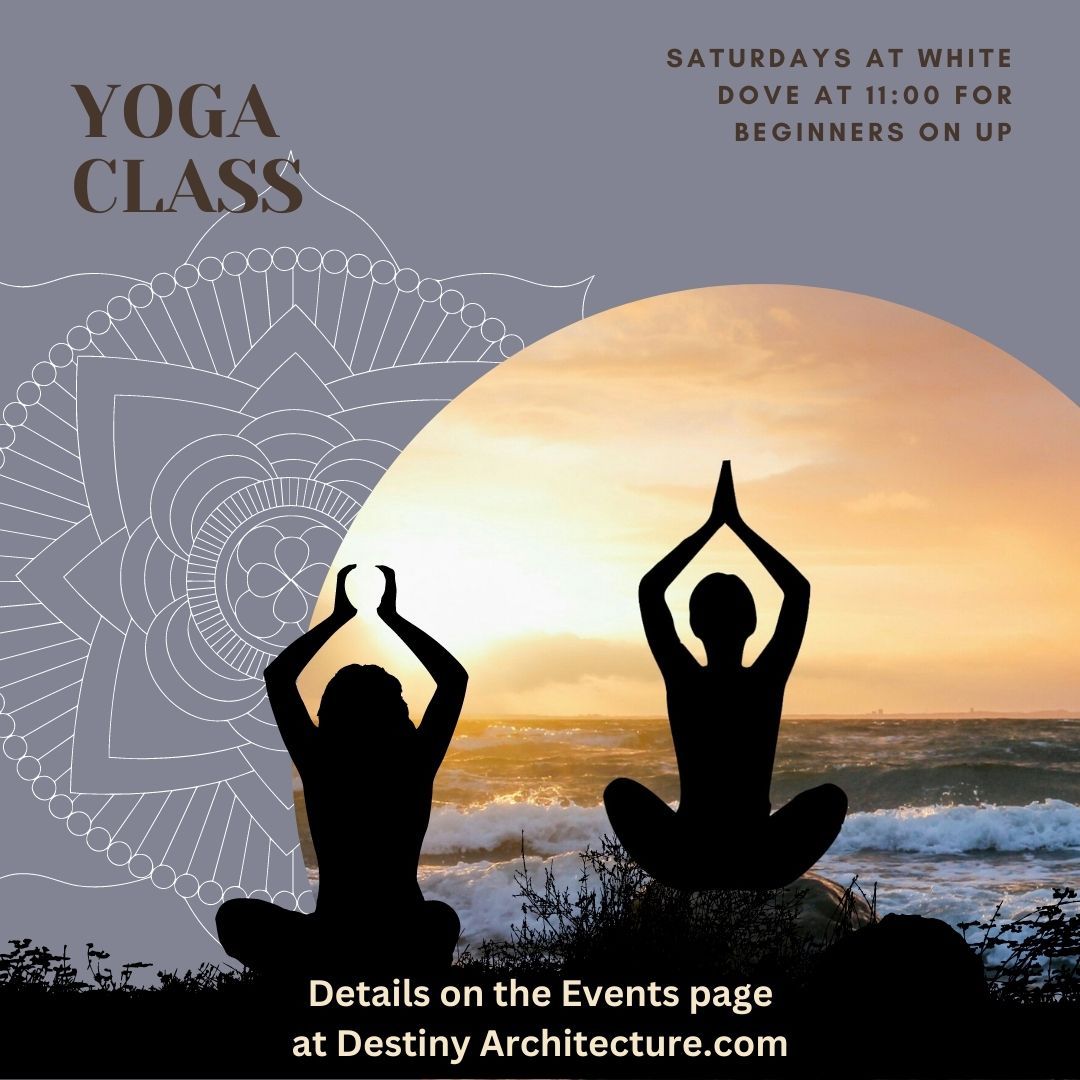 Join Me For Reiki Sessions Throughout September & October
I'm offering chakra-balancing Reiki at White Dove in Wichita through the end of October!
Let's take a look at the dates coming up in September & the rest of 2023:
September 16, 30
October 21, 28
Off for November & December
I'm teaching beginner yoga from 11:00 a.m.-12:00 p.m. on Saturdays and will be available for Reiki sessions after class. So yes, you can make a whole healing & spiritual day of it!
I'm teaching yoga every Saturday in September. I'll stay all day for Reiki after class on the 16th & 30th. For those other Saturdays of September (the 9th and 23rd), let me know after class if you'd like Reiki or make an appointment ahead of time so I know to stick around.
🔮 Saturdays at White Dove, We'll have an Oracle card reader in store from noon-4:00! 🔮
If you can't make it into White Dove, reach out to me via email or the website to link up for a Distance Reiki session. I've created an events page on the main site with all the info you need about yoga & Reiki—both online and in-person.
Half-hour chakra-balancing sessions cost $40.
One-hour sessions cost $75.
The Reiki Healing Pathway lasts 90 minutes and includes an aura clearing, healing attunement, and a Reiki session. The cost is $150.
I'm always available for Distance Reiki (Enkaku Chiryo) if you can't make it to an in-person session or want an energy tune-up outside my White Dove dates.
Walk-ins are always welcome!
White Dove is located at 2947 E. Kellogg (on the frontage road). You can always call us at (316) 262-3683.
I accept cash, card, CashApp, and Bitcoin lightning ⚡️ payments.
---
The Destiny Architecture® Blueprint is brought to you this week by Ora Organics.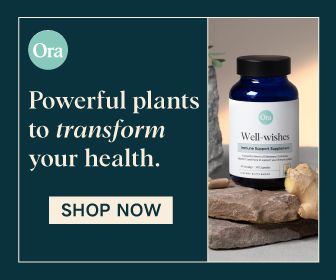 Transform the health of your community with the Earth's most powerful plants! Ora Organics creates supplements from the earth's most powerful plants to transform your health. From protein to vitamins to probiotics, Ora Organics does it all! Try it now.
---
Rolling with the Changes...
I will be leaving Wichita after October and wrapping up all my yoga classes and in-person Reiki sessions on October 28th.
I will be off the weekend of October 7th for both yoga class and Reiki sessions.
After leaving Wichita, I'll still be offering Distance Reiki (Enkaku Chiryo) sessions online as well as yoga classes via video. Of course, I'll be offering coaching sessions as always along with private meditation teaching.
I'll continue posting simple yoga classes on YouTube and offering more in-depth teachings on DestinyArchitecture.net.
The yoga offering will include 2 short (30-minute practices) per month at $9.99/month. You'll also receive everything in the free and $4.99 tiers. This will give you exclusive yoga practices for members only along with the guided meditations and discounts good at the DestinyArchitecture.com store.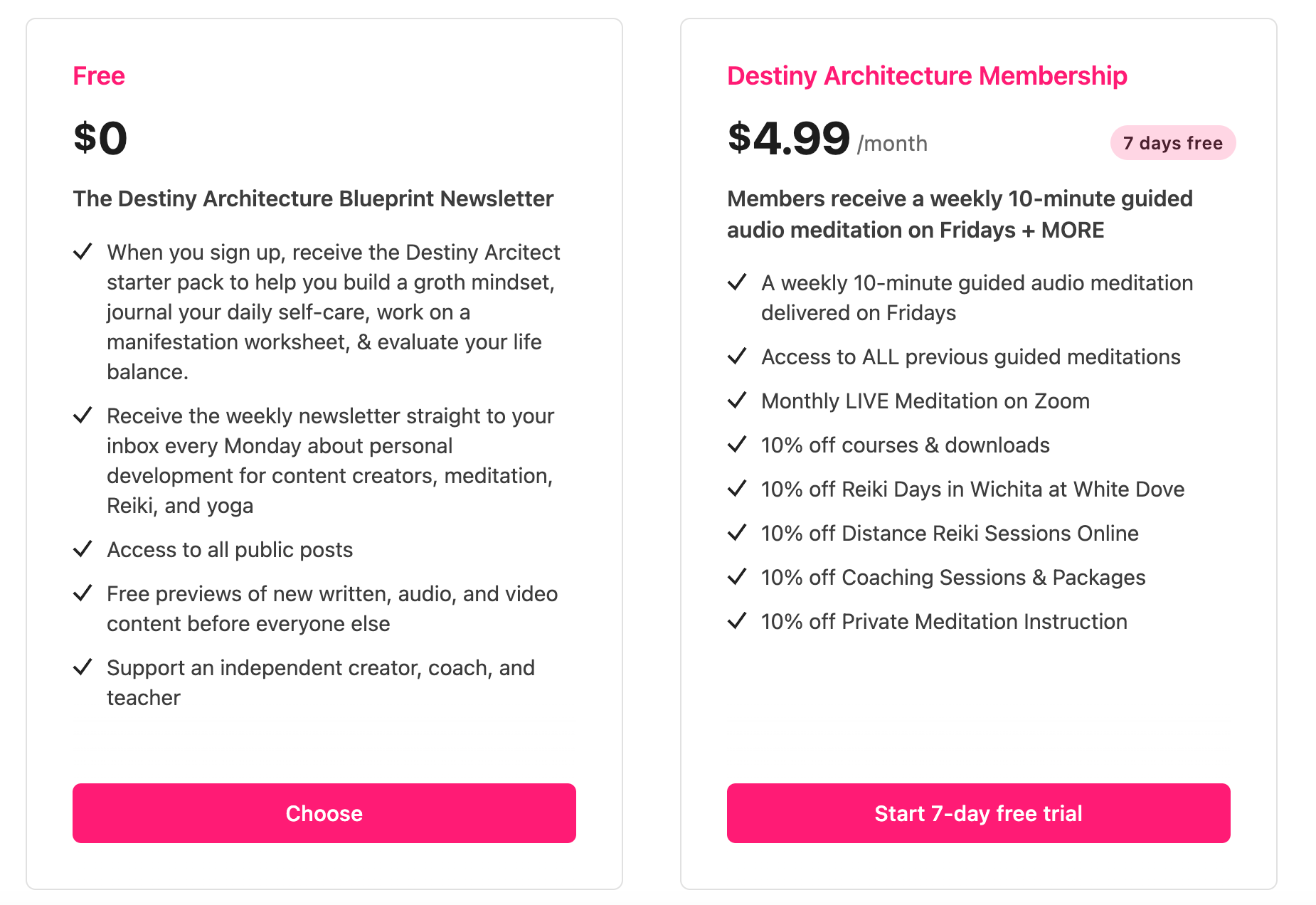 This will give you a way to practice on your own at home. You'll also be able to leave me feedback and ask questions!
I sent out a survey and the responses stated that you'd love to be able to mix and match shorter practices.
The Doors Are About To Close for the 10-Week Wellness Program
One space left! Doors close after tomorrow night!
This is it until the January 2024 program rolls around, which—let's be honest—will be here before you know it!
If you're ready to work privately with me to create your own personal wellness plan with yoga, Reiki, meditation, and coaching, let me know!
This program won't come around again until December. That's when I'll open up the doors again for this program again in January.
Last week's newsletter ⬇️
The Latest Meditation for Subscribers:
Flowing with Creativity: A Guided Meditation for the Sacral Chakra
This week, we'll work on the solar plexus chakra!
Thanks for reading this week's Destiny Architecture Blueprint! This is the newsletter for content creators interested in personal development. I'm a Yoga Teacher (RYT-200), Certified Transformational Life Coach, Certified 100-hour Meditation Teacher, and reiki Master Heather Larson, and I believe being a side-hustling content creator requires a ton of great self-care: Reiki, Yoga, Meditation, and more. So join me on this journey by hitting the "subscribe" button!
You can always support this newsletter by leaving a tip. 🙏