Here's What You Get for Becoming a Member
A FREE weekly newsletter about Reiki, yoga, meditation, & personal development for content creators.
Signing up to become a member for FREE and receive the Destiny Architecture Blueprint Newsletter:
The FREE weekly newsletter is delivered straight to your email inbox every Monday morning and is full of personal development content to make you a better person and creator. Topics include Reiki, yoga, meditation, life coaching, and personal development for content creators. Do you love to create online while nurturing your spiritual side? This is for you!
Be the first to know about Reiki days in Wichita & other upcoming events (in person and online)
Access to all public posts & the ability to comment (when you log in to your free account).
Advance previews of written, audio, and video content before everyone else.
Support an independent content creator, coach, and teacher!

Signing up for the Destiny Architecture membership to get everything FREE members get + the following:

A new guided audio meditation every Friday right here at DestinyArchitecture.net.
A monthly LIVE group meditation over Zoom
10% off courses and downloads
10% off Reiki session in Wichita at White Dove
10% off Distance Reiki sessions online
10% off coaching sessions & packages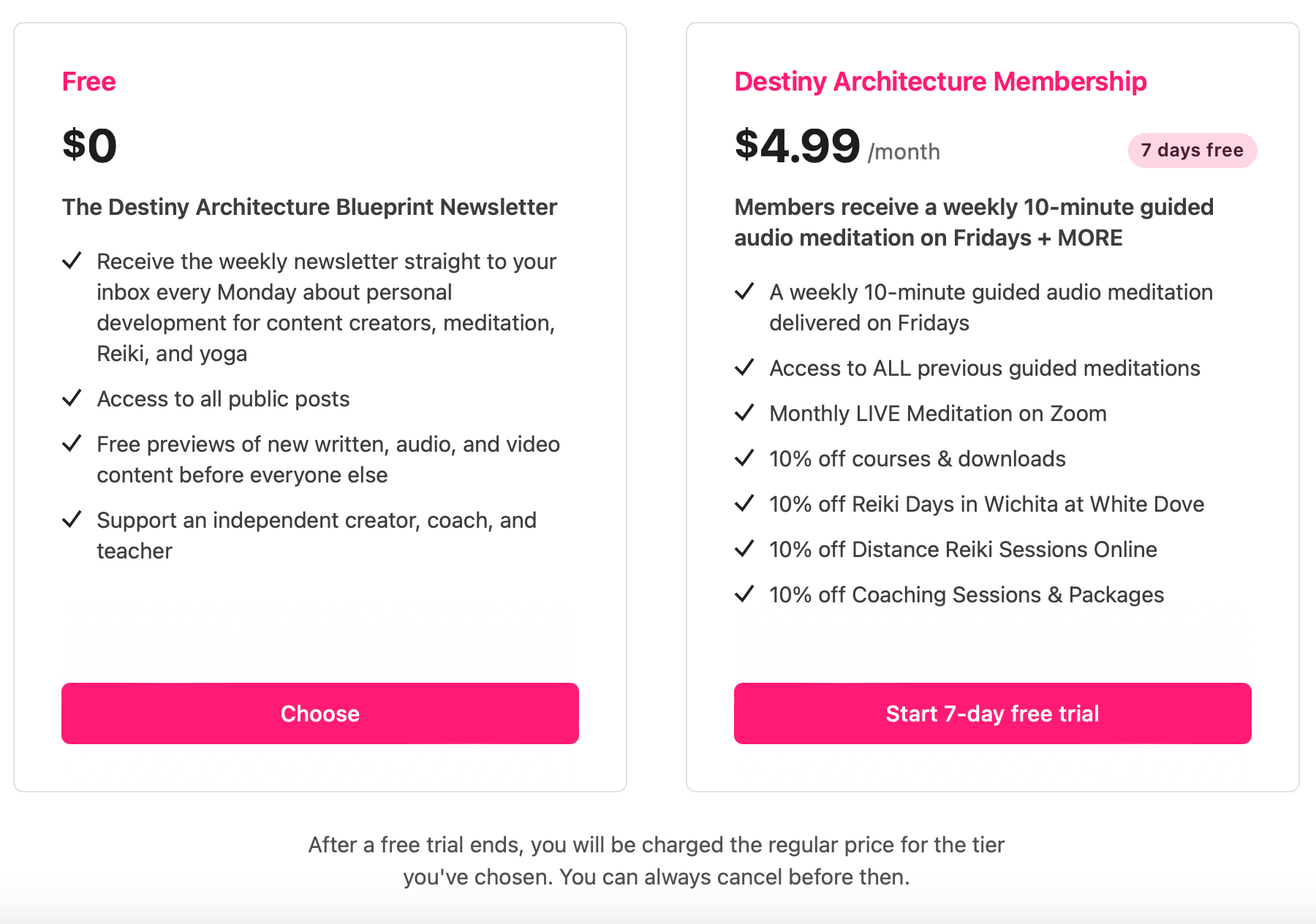 FAQ
Q: What if I want to subscribe elsewhere?
A: You can! You can subscribe on Apple Podcasts or Spotify to receive the weekly guided meditation podcast. You won't get the benefits of being a member here at DestinyArchitecture.net, but the cost is the same. I'm trying to meet podcast listeners and meditators where they're at. I'd rather find you in an ecosystem you already know, like Apple or Spotify, than not at all.
Q: How long have you been doing this?
A: The newsletter started going out in early 2022! The weekly meditation started in February 2023. I've been doing Reiki professionally since 2014 and life coaching since 2016. You can see the original site here. I've been a certified meditation teacher since November 2023.
Q: Why the membership here?
A: To create community! It helped me to join meditation groups and yoga classes, so I want to be able to offer the same to others.
Q: Can I still get the monthly meditation and discounts if I subscribe on Apple or Spotify?
A: No. You have to subscribe here on DestinyArchitecture.net to the membership in order to get those benefits.