🌟 Reiki is SO Much More Than Chakras!⚡️ The Destiny Architecture Blueprint 6/26/23
a word about healing. Western Reiki 2 was something that broke healing wide open for me. This is what Reiki does for us all; it provides a way to come into each person's life
Last weekend, I returned to my Reiki teachers to continue my own learning path of Reiki. Thank you to Donna and Conrad Jestmore for giving me a Reiki "home" to return to! I loved our Okuden Reiki course and can't wait to keep learning with you!
I love offering chakra-balancing Reiki sessions because I find the seven chakras are universal. Most people seem to be aware of them and quite interested in learning more.
I also find the chakras are a fantastic intersection between all I offer—Reiki, meditation, coaching, (and soon, yoga). The chakras give me a simple way to help people understand what Reiki energy is and what it can do.
So why am I continuing my Reiki education even though I'm already a Reiki Master?
Because I'm a learning junkie, duh! Coaching, meditation, Reiki, and yoga are my loves—and all require continuing education. There are deeper reasons:
I am a Reiki Master in the Western "system" of Reiki; I wanted a deeper experience of the Eastern ways.
I'm not a huge fan of what Western Reiki has become and it often doesn't align with my ethics. I lean into Reiki's history and traditions with respect. Western Reiki (I won't name names) has become obsessed with power over others and high-dollar offers. There, I said it. With that said...
I am fortunate, blessed, and glad that I learned Western Reiki first. It gave me Reiki and a start down the healing path.
I'm in it for my own healing! I've been in love with Reiki since 2012. I continue to read about it, study it, and I love to stay true to what Mikao Usui brought to the world. This is also my spiritual path. A healing journey is part of that path, as it is for most of us. The more I heal myself, the more I can offer healing to others.
I seek to "be" Reiki and practice the "way" of Reiki, which is what the Eastern path teaches. Conrad and Donna teach this and our lineage stems from Frans Steine. I'm grateful to them for bringing this to Wichita!
Finally, a word about healing. Western Reiki 2 was something that broke healing wide open for me. This is what Reiki does for us all; it provides a way to come into each person's life and give the person what they need. At the time I took Reiki 2, the healing need for me was to get sober for good.
Happy 10th Sober Birthday to Me!
Wishing myself a happy 10 years? Yes! It may inspire you to get sober, celebrate your wins, or simply celebrate LIFE!
But what's in it for you?
Here's my pledge: everything here remains sobriety-friendly.
As a coach, Reiki Master, meditation teacher, and soon-to-be-yoga-teacher, my goal is to offer mind-body wellness to those who want it without ever lowering myself to shilling booze or drugs.
Destiny Architecture has always been and will always remain a safe place for sober folks.
I refuse to jump on trends like psychadelics, "plant medicine," "mommy wine time," etc. Whatever you call it, it is altering the mind state. As a sober person, I avoid this.
It gives me purpose and meaning to create a safe space for sober people to practice mind-body wellness.
I've refused to offer Reiki to intoxicated people for 9 years (and counting). I'd hate to see someone avoid a yoga class because it involved alcohol or mind-altering substances.
It makes me sad to see "yoga and wine" classes because people like myself feel excluded from them. I don't want sober people to feel left out; yoga is for you, it's for everyone!
My personal interpretation of Patanjali's yoga sutras is that mind-altering substances aren't allowed for yogis and that the practice of yoga isn't congruent with substance use/abuse. In fact, with all the tools of yoga at our disposal, we shouldn't need to alter our minds or opt for the "escape" mind-altering substances might be perceived to offer.
In truth, for many of us, they don't offer escape. They offer much pain, suffering, and heartache. Using susbstances in a disordered way goes against everything spiritual practices are for, which is the release from pain and suffering!
Meet me for a Mind-Body Wellness Circle Saturday (7/1) at 1:00 at White Dove
This Saturday (yes, my actual 10-year sober birthday) I'm hosting a Mind-Body Wellness Circle at White Dove from 1-2 pm. Come for a short group meditation and Reiki session with me. I'll have my tarot cards ready to go! Feel free to ask me questions (if you have any) about:
✨ Meditation, Reiki, yoga, and personal development.
In what area of your life do you need healing? How do healing practices become tools that aid in mind-body wellness? How can you make self-care a priority in your life?
This is my wheelhouse! So come on down. Cost will be a love offering to help support White Dove!
Reiki This Weekend: Saturday July 1 from 11-4 at White Dove Wichita!
Let's meet again at White Dove this weekend!
Chakra-balancing Reiki happens on the final Saturday of each month—with a few extra dates mixed in as I can—at White Dove in Wichita!
Walk-ins are always welcome. White Dove is located at 2947 E. Kellogg (on the frontage road). You can always call us at (316) 262-3683 or email me directly to hold your spot at destinyarchitecture@gmail.com.
Sessions last 25 minutes and cost $40. I accept cash, card, CashApp, and Bitcoin lightning ⚡️ payments.
🌟 Ask me about aura cleansing and healing attunements! Also, if you think you need a full hour, let me know. (Cost will be $75).
If you want a sneak peek of dates for the rest of the year, I've posted them here.
🎴 I'm also going to bring a tarot deck (or two) so we can have fun with readings if anyone wants one! Cost will be a love offering!
---
The Destiny Architecture Blueprint is brought to you this week by Hint.

Water doesn't have to be boring!
​​Hint Water specializes in flavored water infused with fruit essences. Unlike sweetened beverages or artificially flavored drinks, Hint Water offers a refreshing and tasty alternative without the addition of sugar or diet sweeteners. By using purified water and natural fruit essences, Hint Water provides surprisingly accurate fruit flavors. We offer 8 delicious flavors to choose from. Try Hint Today! New customers get over 45% off your first order  + FREE Shipping!
shop nowPowered by Swapstack
---
The Reiki Summer Pass is Almost Gone
This is only available until July 15, so if you've had your eye on 6 sessions for the price of 5... Or if you want to deepen your healing journey this summer... Or if you simply want to relax more often with Reiki... Take advantage of this summer deal!
Last week's newsletter ⬇️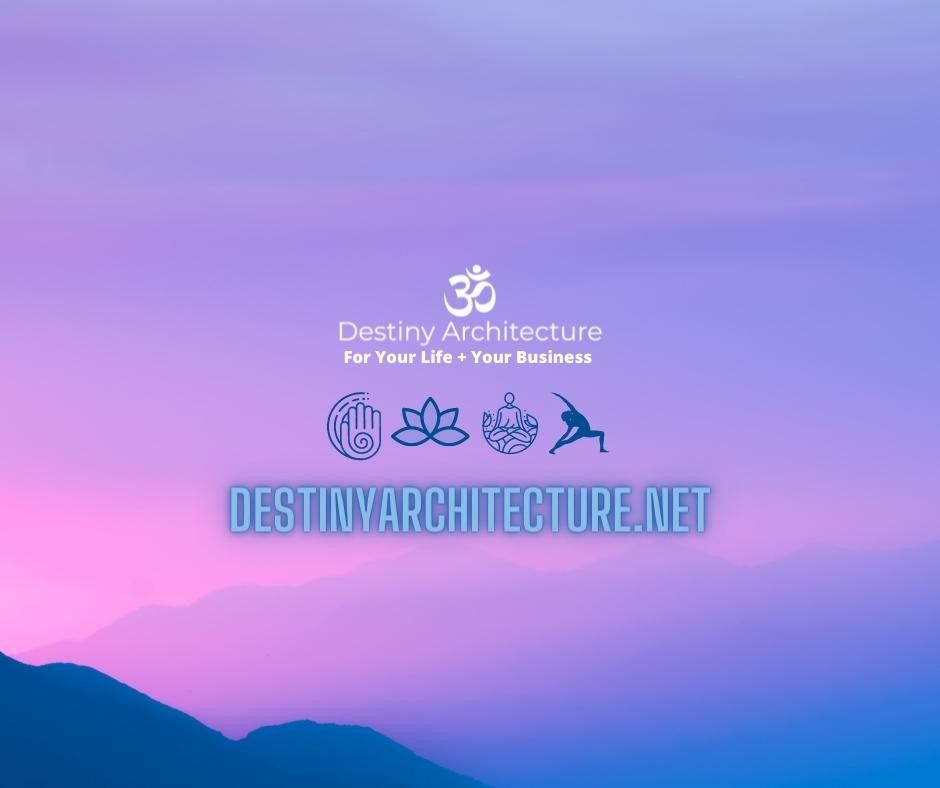 The Latest Meditation for Subscribers:

In this week's episode of the Destiny Architecture guided audio meditation, we explore meditation for stress reduction.
You'll focus on getting back in touch with your body and consciousness to reduce stress and cultivate inner peace. You'll acknowledge the presence of racing thoughts and signs of stress, but be encouraged to let go of them.
Throughout this practice, you'll engage in deep breathing exercises to help with relaxation. Meditation can be a quiet, peaceful activity where we follow our breath as a guide.
By paying attention to our breathing and posture and releasing any tension in our body, we can cultivate inner peace and reduce stress. Listen by becoming a member. ⬇️
---
Learn about life coaching here.
Learn about meditation and give it a try. Sign up for the meditation membership here.
Listen to (and follow) 270+ episodes of the Destiny Architecture podcast.
Snag software discounts, my minimalism eBook, and more.
Need an eBook on personal development or a life coaching worksheet?
Have I helped you with something BIG in life? Spread the love and pay it forward with a testimonial! 😊
Find me on Open Path Healing Arts Collective for life coaching on a sliding scale.
You can email me at destinyarchitecture@gmail.com.
Thanks for reading this week's Destiny Architecture Blueprint! This is the newsletter for content creators interested in personal development. I'm Certified Transformational Life Coach, Certified 100-hour Meditation Teacher, & Usui Reiki Master Heather Larson, and I believe being a side-hustling content creator requires a ton of great self-care: Reiki, Yoga, Meditation, and more. So join me on this journey by hitting the "subscribe" button!
You can always support this newsletter by leaving a tip. 🙏