The Top 3 Signs It's Time To Hire a Coach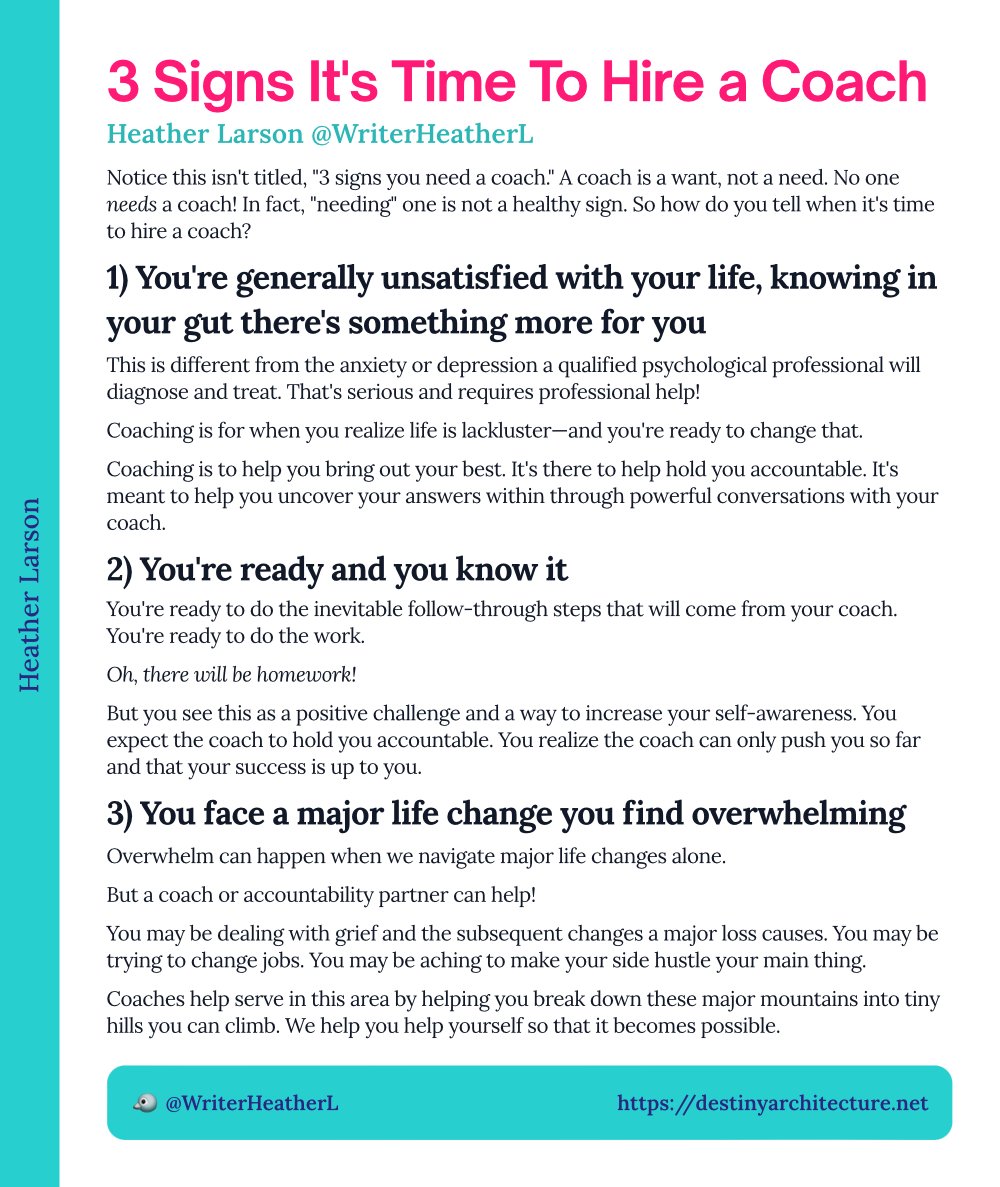 How do you know it's time to seek…professional help? In a life coach?
It's that time of year again. Holidays, bowl games, shopping, cooking, baking—and soon to come—new year's resolutions. Which inevitably leads to failure.
New year's resolutions never work! I don't think anyone makes them anymore. It seems now most people are picking a "word for the year" to give it a theme. I've written about it before, but this isn't the place to come for that "new year, new me" treatment either.
But I know change for the new year is on your mind.
You're declaring it—this will be my best year ever!
This means you have something (or things) in your life you want to change
Great! If you know you need to make changes, what do you need a life coach for? 😉
A good coach will hold you accountable and keep you on track.
But I can do that myself!
Great! Go for it! (And know I'm here for when you get off track and need a little nudge).
What if you know you need to change and don't know what changes to make?
Bingo. You need a life coach if you're feeling lost, stuck, and unable to commit to making lasting change. But here's the catch—if this sounds like you but you're unhappy, depressed, or otherwise experiencing a severe mental health issue, then coaching isn't for you. You're in need of a therapist.
If your life is pretty good and you simply know there "must be something more," or want to level up a bit, then coaching is for you.
As I write in the Typeshare essay below, coaching is for general (but not serious) dissatisfaction with your life. It's also for you when you're ready; coaching won't work if you're not ready to do the work! Coaching is also for you if you're dealing with overwhelm during a major life change but isn't there to take the place of therapy.
For example: I won't help you through your grief work, but I do understand grief and the existential crises it causes in life. If grief has left you being forced to level up in your career, I've been there. I can help you to create your goals and plans so you can move forward. If a major illness has forced you to change how you make a living, I've been there too! I can help you make the career pivot you need in order to support yourself through a new phase of life.