🌟 30-Minute Yoga Practice Inside & Reiki This Weekend⚡️ The Destiny Architecture Blueprint 8/7/23
I know you can stop the scroll and practice yoga with me for just 5 minutes... I'm offering free LIVE yoga practices on Zoom for a good cause this month.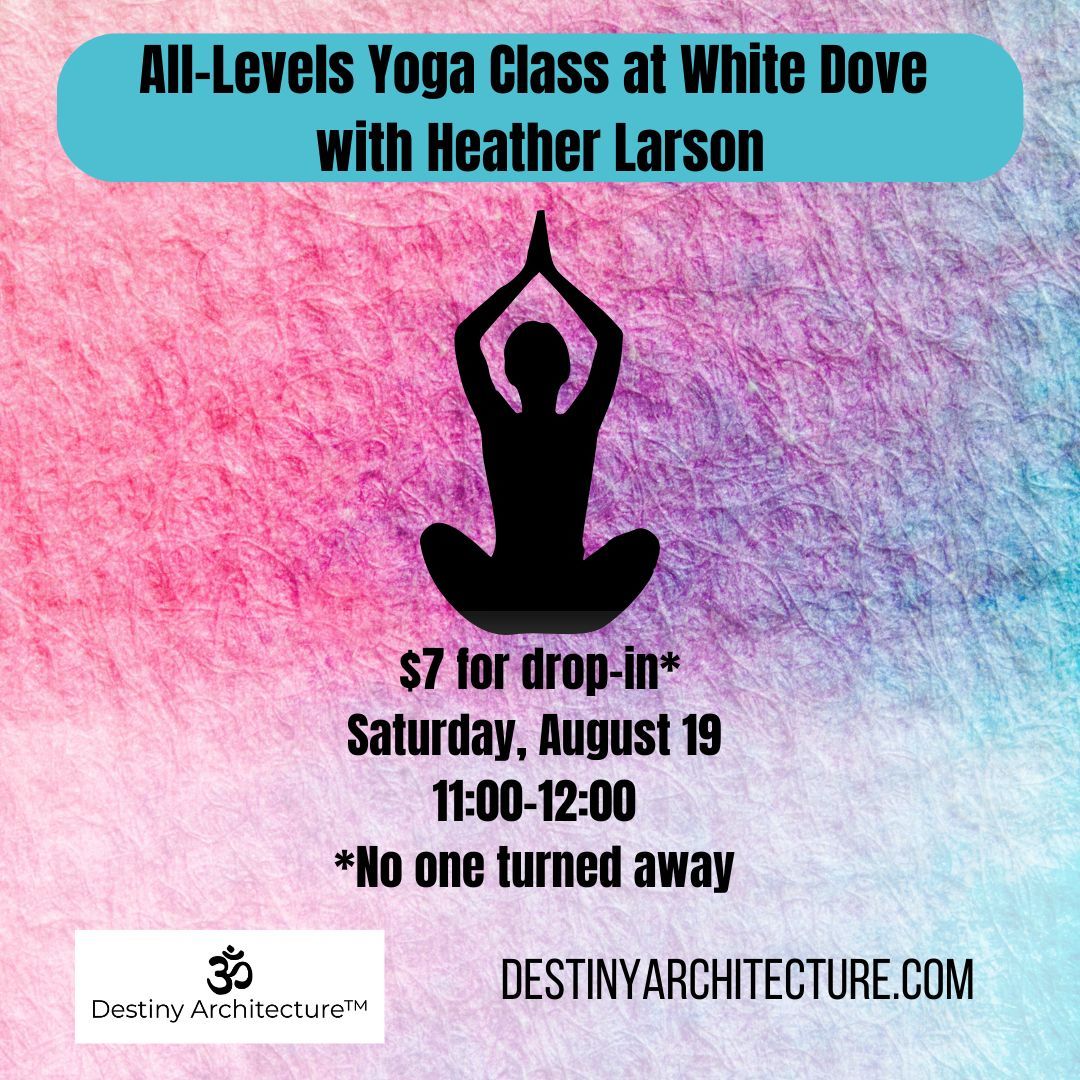 I know you can stop the scroll and practice yoga with me for just 5 minutes... I'm offering free LIVE yoga practices on Zoom for a good cause this month.
🙏  Thanks for helping me raise $86 so far for Stop Soldier Suicide! (The goal is to raise $200 while practicing yoga every day in August for 30 minutes).
I'm Doing 30 Minutes of Yoga Daily at 9:30 Central on Zoom!
You can join me LIVE, and if not, I'm posting the recordings on the Destiny Architecture™ YouTube channel.
Join Me for an All-Levels Yoga Class at White Dove on 8/19!
I just created an events page and posted the Stop Soldier Suicide event along with the class I'll be leading at White Dove on Saturday, August 19 from 11:00-12:00.
The class on 8/19 is what I will be submitting for my final project for my RYT-200 and all are welcome!
⏰ Class will last 1 hour
🧘‍♂ This will be an all-levels class. ALL bodies are welcome! You're especially welcome if you think you can't do yoga and have never given it a try. ️
🧘‍♀️ We do have some mats available at White Dove, but I recommend bringing your own if you have one.
⭐️  If there's any interest in attending from outside Wichita, I'll set up my laptop with Zoom, but I can't promise the sound quality will be fantastic in a larger room.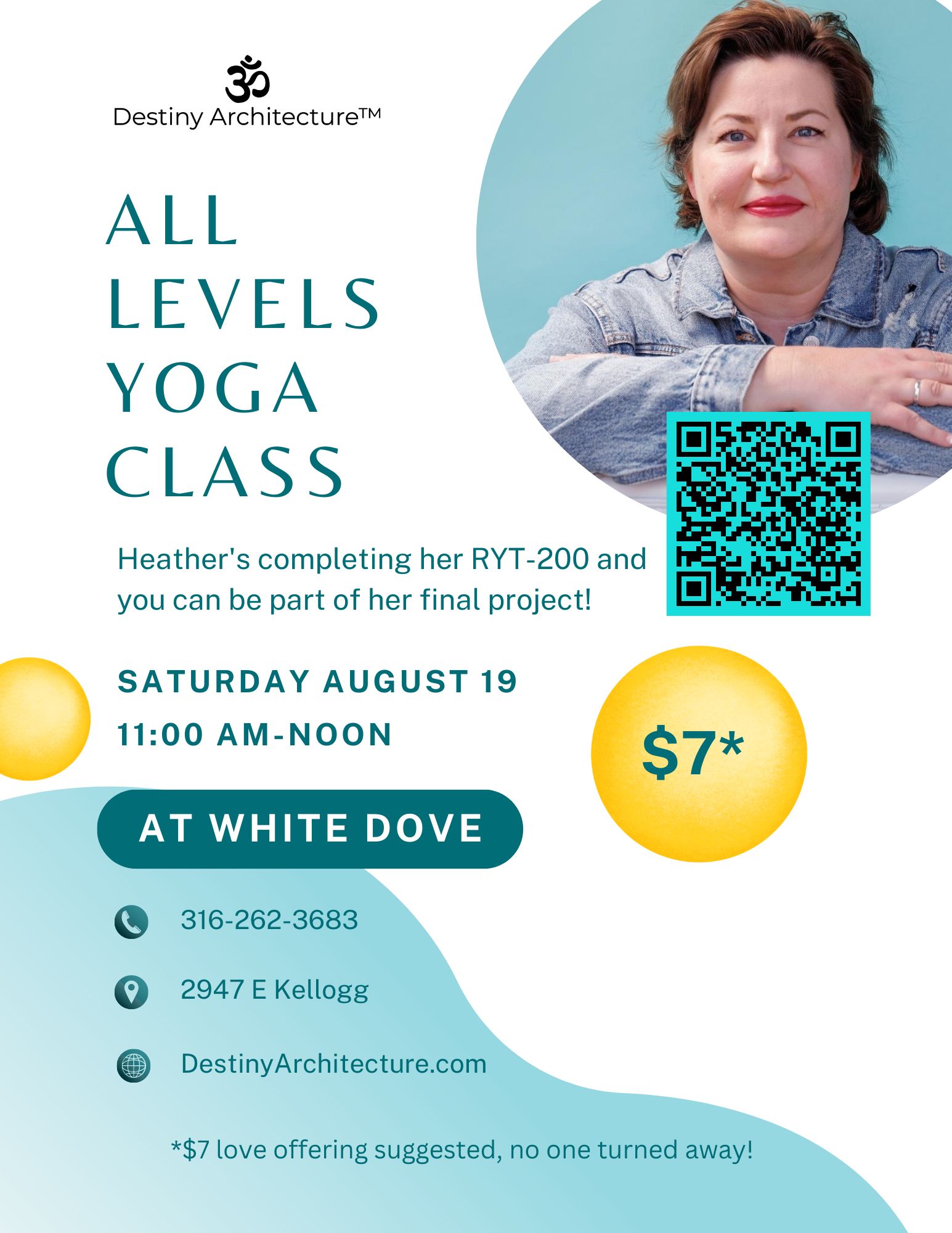 Reiki Sessions In-Person For August!
I'll see you this Saturday for chakra-balancing Reiki at White Dove in Wichita! I'll be offering Reiki sessions from 11:00 am-4:00 pm. Walk-ins are always welcome, or you can save your spot by calling ahead or emailing me.
White Dove is located at 2947 E. Kellogg (on the frontage road). You can always call us at (316) 262-3683 or email me directly to hold your spot at destinyarchitecture@gmail.com.
Cost:
⭐️ Half-hour chakra-balancing sessions cost $40.
⭐️ ⭐️ One-hour sessions are NEW and ON SALE right now for $69.
If you can't make it to White Dove in Wichita, reach out to me via email or the website to link up for a Distance Reiki session.
I'm on an "every other weekend" schedule with the following dates for the rest of 2023:
August 26
September 2, 16, 30
October 21, 28
Off for November & December
If You're a Warrior on Your Healing Path...
The Reiki Healing Pathway is a new session I'm offering to help you clear major blocks in your life. It will require some work on your part with a relaxing Reiki session at the end to wrap things up. Allow 90 minutes for this transformative healing session, including an aura clearing, healing attunement, and a Reiki session. The cost is $125.
I have limited availability for Distance Reiki (Enkaku Chiryo) if you can't make it to an in-person session in Wichita or want an energy tune-up outside my White Dove dates. I hold this healing session live with you by phone or Zoom. Cost is $40.
I accept cash, card, CashApp, and Bitcoin lightning ⚡️ payments.
---
The Destiny Architecture Bluepring is brought to you by Instacart!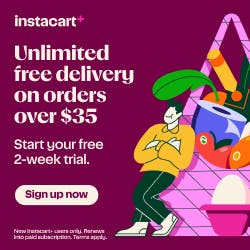 Unlimited Free Grocery Delivery on Orders $35+
Get groceries delivered in as fast as one hour with Instacart
Start your 2 week free trial nowPowered by Swapstack
---
Can you do me a quick favor?
I'd love to add your testimonial to the site! It will only take a moment and you can choose whether to make one via text or video. Thank you! 🙏
Digital Downloads Are On Sale Through August
It's been a hot summer, so I've stayed inside creating some awesome new digital planners and workbooks you can use. You can start journaling toward better self-care and also track your progress in your meditation practice. These are on sale for $8-11.
Last week's newsletter ⬇️
The Latest Meditation for Subscribers:
Curated Mind-Body Wellness Content
I've been bingeing hormonal content for a long time. It seems my hormones have been sabotaging my weight loss efforts for the past year—and I'm not even in menopause yet! (Though 1 year ago I thought I WAS!)
If you're menopausal and losing weight, this is for you. If you're not yet menopausal, this is also for you. I don't think we talk enough about hormones and how our lifestyle influences them.
---
Learn about life coaching here.
Learn about meditation and give it a try. Sign up for the meditation membership here.
Listen to (and follow) 385+ episodes of the Destiny Architecture podcast.
Snag software discounts, my minimalism eBook, and more.
Need an eBook on personal development or a life coaching worksheet?
Have I helped you with something BIG in life? Spread the love and pay it forward with a testimonial! 😊
You can email me at destinyarchitecture@gmail.com.
Thanks for reading this week's Destiny Architecture Blueprint! This is the newsletter for content creators interested in personal development. I'm Certified Transformational Life Coach, Certified 100-hour Meditation Teacher, & Usui Reiki Master Heather Larson, and I believe being a side-hustling content creator requires a ton of great self-care: Reiki, Yoga, Meditation, and more. So join me on this journey by hitting the "subscribe" button!
You can always support this newsletter by leaving a tip. 🙏
---