🌟 Happy Memorial Day!⚡️ The Destiny Architecture Blueprint 5/29/23
Have a relaxing and safe weekend! Reiki dates for June are below along with a Memorial Weekend Sale on the Reiki Summer Pass for just $179!
Have a relaxing and safe weekend! Reiki dates for June are below along with a Memorial Weekend Sale on the Reiki Summer Pass for just $179!
I'll See You June 10 & 24 for Reiki at White Dove
Chakra-balancing Reiki happens on the final Saturday of each month—with a few extra dates mixed in as I can—at White Dove in Wichita! So there are two more Reiki Saturdays this month:
Walk-ins are always welcome. White Dove is located at 2947 E. Kellogg (on the frontage road). You can always call us at (316) 262-3683 or email me directly to hold your spot at destinyarchitecture@gmail.com.
Sessions last 25 minutes and cost $40. I accept cash, card, CashApp, and Bitcoin lightning ⚡️ payments.
The Reiki Summer Pass Memorial Day Sale! $20 Off!
I just put this baby on sale for $179—normally $199! The Reiki Summer pass gets you six sessions for the price of 5! It's on sale for $179 through May (which means the sale is over June 1!)
I will sell the Reiki Summer Pass through July 15 and then it's gone.
This is perfect for you if you really want to deepen your connection to Reiki this summer. Or if you have a specific issue you've been struggling with. You can also use this to work on something deeper—like a Reiki Healing Attunement.
The Reiki Healing Attunement is not the same as a Reiki attunement given for level 1, 2, and master classes. This attunement is to help you with a specific intention. It can be given to several people at once, but you can use your Reiki Summer Pass to receive a one-on-one Reiki Healing Attunement with me.
You can also combine two sessions into one to make an hour-long session if you wish! As you know my sessions always last a minimum of 25-30 minutes, often with some chitty-chatting before/after. But if you want to extend your relaxation, I'm open to it!
With the Reiki Summer Pass, you can also opt for distance sessions. If you can't come to Wichita, you can still enjoy Distance Reiki (Enkaky Chiryo). You can also mix and match distance and in-person sessions in Wichita!
Make this the summer you really double down on self-care and go within through the practice of Reiki. ✨
---
The Destiny Architecture Blueprint is brought to you this week by Hint, which I love because it contains NO artificial sweeteners, which I cannot taste!

Water doesn't have to be boring!
​​Hint Water specializes in flavored water infused with fruit essences. Unlike sweetened beverages or artificially flavored drinks, Hint Water offers a refreshing and tasty alternative without the addition of sugar or diet sweeteners. By using purified water and natural fruit essences, Hint Water provides surprisingly accurate fruit flavors. We offer 8 delicious flavors to choose from. Try Hint Today! New customers get over 45% off your first order  + FREE Shipping!
shop nowPowered by Swapstack
---
June's New Moon Meditation 🌚
Save the date: Friday, June 16 at 5:00-6:00 pm
Join me for a New Moon 🌚 Meditation + manifestation practice over Zoom. You must subscribe to the monthly membership at $4.99/mo to attend the meditation or watch the recording. You also receive the guided meditations each week along with discounts on Reiki, life coaching, and more.
Catch up on last month's New Moon Meditation👇
Since this was the first one, I made the recording available for everyone to see and try. Future editions will be available to members only.
Last week's newsletter ⬇️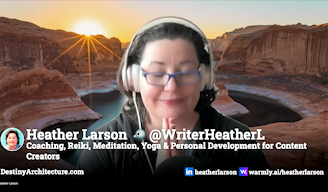 On the blog last week
Are you letting your fear of online trolls 🧌 hold you back from releasing your content in the world? Here's how to deal with this.
The Latest Meditation for Subscribers...
I took a week off from posting the weekly guided meditation in order to start the 3-day weekend early. Next week, I'll release a new one to help you quit smoking.
You can enjoy the previous guided meditations. There are more than a dozen now!
Here they all are. ⬇️
Curated Content for Content Creators (Who Also Care Deeply About Personal Development)
During the May 18 New Moon 🌚 meditation, I mentioned a favorite Vedic astrology I've followed since ~2008, Sam Geppi. Here's one of his recent videos.
Many can argue that what this headline refers to as "nature spirituality" has never left. But it's "back," which means it's trendy. I've seen many spiritual trends come and go since I began my yoga journey in 1996. One thing remains the same—we're all seeking something deeper.
There are two people in the world who can't experience pain or discomfort, according to this article. I'm going to have to consult the yoga sutras to understand this one. 😉 Here's the original source, Oxford Academic.

---
Learn about life coaching here.
Learn about meditation and give it a try. Sign up for the meditation membership here.
Listen to (and follow) 270+ episodes of the Destiny Architecture podcast.
Snag software discounts, my minimalism eBook, and more.
Need an eBook on personal development or a life coaching worksheet?
Have I helped you with something BIG in life? Spread the love and pay it forward with a testimonial! 😊
Please find me on Open Path Healing Arts Collective for life coaching on a sliding scale.
You can email me at destinyarchitecture@gmail.com.
Thanks for reading this week's Destiny Architecture Blueprint! This is the newsletter for content creators interested in personal development. I'm Certified Transformational Life Coach, Certified 100-hour Meditation Teacher, & Usui Reiki Master Heather Larson, and I believe being a side-hustling content creator requires a ton of great self-care: Reiki, Yoga, Meditation, and more. So join me on this journey by hitting the "subscribe" button!
You can always support this newsletter by leaving a tip. 🙏