🌟 Here's Why YOU Can Do Yoga⚡️ The Destiny Architecture Blueprint 8/28/23
If you've been away from yoga for a while, I want your return to be calm, nourishing, and peaceful.
Now that it's official, I thought I'd share the good news!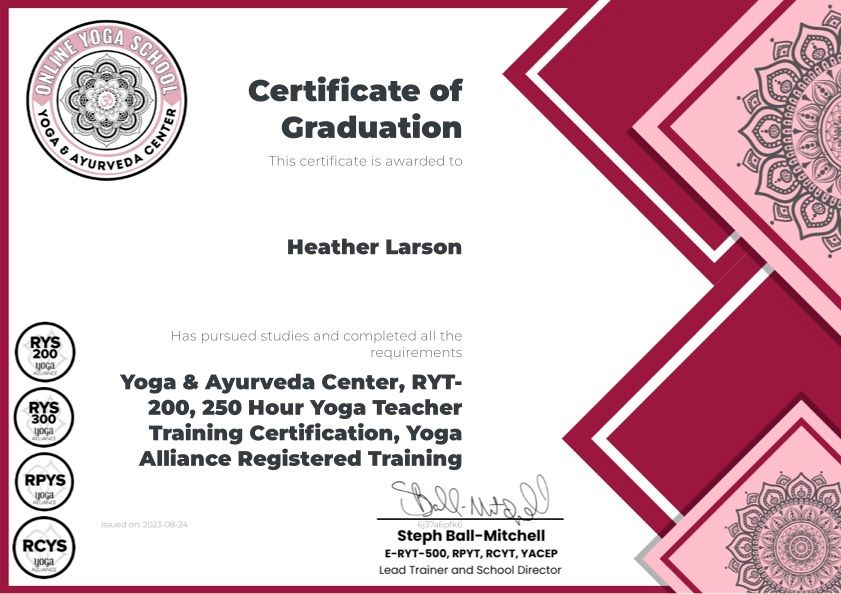 Consider this your official invitation to yoga class at 11:00 on Saturdays at White Dove! 🕊️
What Can You Expect From a Yoga Class with Me?
I'm teaching beginner-friendly yoga. I want you to not only try yoga but have a great experience on that mat (and off) with it.
If you've been away from yoga for a while, I want your return to be calm, nourishing, and peaceful.
I want you to feel welcome in yoga class. I don't want you to stay away because you think yoga:
🌟 Is hard
🌟 Will "kick your ass," wear you out, and leave you sore for 3 days
🌟 Requires a certain level of fitness first
🌟 Means pretezelling yourself into awkward poses
🌟 Requires fancy, expensive clothing & gear
🌟 Is exercise & you hate exercise
Here's the reality. Yoga is a practice that can help you build up all those things you want but think aren't in reach:
🌝 Greater patience & tolerance
🌝 Less stress
🌝 Self-awareness earned through self-study
🌝 A more open mind
Do What You CAN DO When You Practice Yoga
This is the goal! I want to make yoga accessible to all. There isn't a single one of us who can do ALL the yoga poses—nor should we.
There are some I refuse to teach (no standing on our heads around here).
I can't do every pose in yoga and neither can you. What I DO want to teach you to do is give it a try. Do what you can. I'll give you alternatives and modifications when you can't do something.
I want you to be able to move in your body and find new ways to try movement. You don't need to look at yoga as exercise or fitness because it's NOT!
Yoga is a way to establish your mind-body connection, lower your stress, and get out of your sedentary lifestyle. It's a lot of things, but for now, give it a try!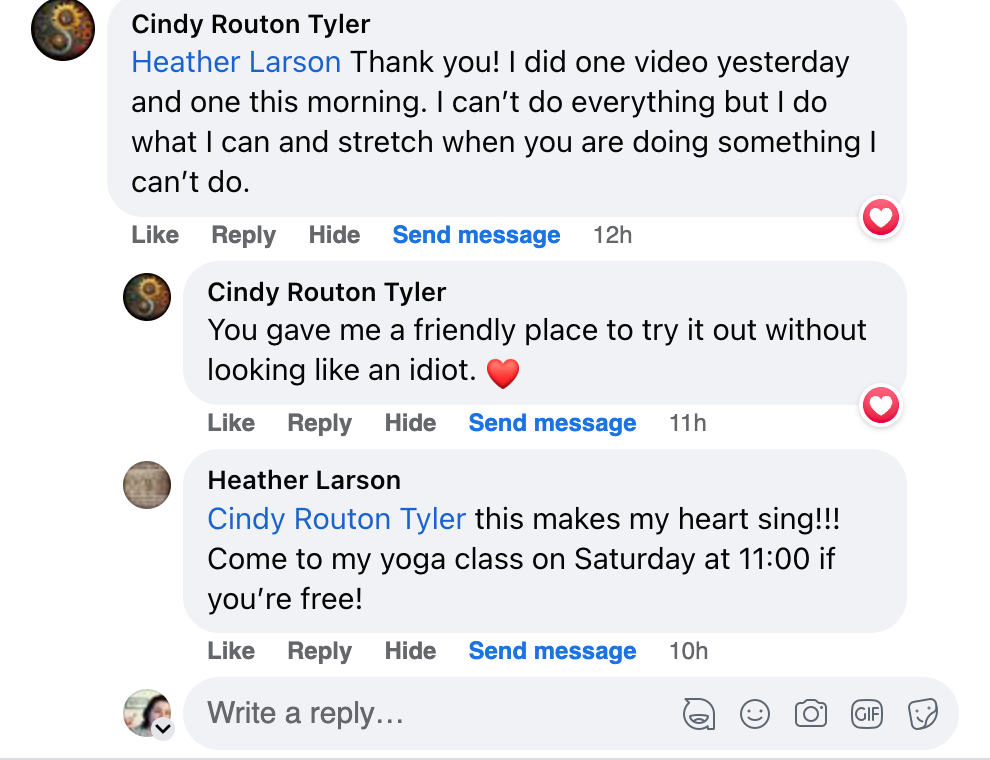 Receive Chakra-Balancing Reiki This Saturday, September 2
The final Saturday of the month brings you chakra-balancing Reiki at White Dove in Wichita! See me this Saturday, 9/2, at White Dove from 12:30 pm to 4:00 pm.
I'm teaching yoga from 11:00 am-12:00 pm and will be offering Reiki sessions afterward. So yes, you can make a whole healing & spiritual day of it!
We'll also have an Oracle card reader in store from noon-4. This weekend, it will be Trista. 🔮
If you can't make it into White Dove, reach out to me via email or the website to link up for a Distance Reiki session.
Here are the Reiki dates for the rest of 2023:
September 2, 16, 30
October 21, 28
Off for November & December
I've also created an events page on the main site with all the info you need about yoga & Reiki—both online and in-person.
Half-hour chakra-balancing sessions cost $40. One-hour sessions are NEW and ON SALE right now for $69.
Also new is the Reiki Healing Pathway. Allow 90 minutes for this transformative healing session, including an aura clearing, healing attunement, and a Reiki session. The cost is $125.
I'm always available for Distance Reiki (Enkaku Chiryo) if you can't make it to an in-person session or want an energy tune-up outside my White Dove dates.
Walk-ins are always welcome!
White Dove is located at 2947 E. Kellogg (on the frontage road). You can always call us at (316) 262-3683 or email me directly to hold your spot at destinyarchitecture@gmail.com.
I accept cash, card, CashApp, and Bitcoin lightning ⚡️ payments.
I'm Looking For Feedback, Would You Be Willing To Answer These Questions?
I created this simple form with 4 questions to see what you'd like to have more of around here. I will be wrapping up yoga instruction and Reiki sessions at White Dove at the end of October and moving out of Wichita.
A great deal of what I offer is already available online. (Distance Reiki, online life coaching, meditation instruction, digital planners, and yoga videos).
I have so much more to offer and have quite a bit in the works! For now, I want to know what you'd like in a yoga subscription for $10/month—as in, what would you find useful?
Thank you for your input! I'm excited to be able to serve you better! 🙏 🤲 💫
---
The Destiny Architecture™ Blueprint is brought to you by Mira Fertility.
The world's smartest, clinically-proven ovulation and fertility tracker. Mira Fertility has empowered thousands of women to know better about their fertility and health!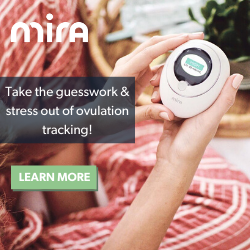 ---
Two Spots Remain in the 10-Week Mind-Body Wellenss Program for Fall 2023!
I'm going to open up space in this program 3 times over the next year. This 10-week intensive will help you get on track with your wellness habits, lower your stress, and find more fulfillment.
You'll work with me one-on-one for 60-90 minutes a week during which time we'll focus on creating your wellness plan through coaching, yoga, meditation, and Reiki.
Since this is the first time I'm offering this as a new yoga teacher, the introductory price is $1,800 if you pay in full by 9/1/23. It's a 10-week commitment at a $2700 value for only $2200. (Save $500! Yes, I can break $2200 into 2 payments of $1100 or 4 payments of $550.)
Doors close on 9/5/23 and won't open again until the end of 2023 (for the start of 2024).
Becoming a Yoga Teacher Feels Like A New Start!
What new start would you like to make? Listen to this recent guided meditation for help getting into that energetic space.
Last week's newsletter ⬇️
The Latest Meditation for Subscribers:
BTW, you can catch up on all the previous meditations I've created over the past six months when you subscribe for just $4.99/month.
ICYMI: The Latest Wellness Blogs
The Journey of Transformation: How a 10-Week Wellness Program Can Change Your Life
The Role of Yoga, Reiki, and Meditation in Personal Growth
Curated Mind-Body Wellness Content
That's 40% more health, productivity, and success!
---
Learn about life coaching here.
Learn about meditation and give it a try. Sign up for the meditation membership here.
Listen to (and follow) 385+ episodes of the Destiny Architecture podcast.
Snag software discounts, my minimalism eBook, and more.
Need an eBook on personal development or a life coaching worksheet?
Have I helped you with something BIG in life? Spread the love and pay it forward with a testimonial! 😊
You can email me at destinyarchitecture@gmail.com.
Thanks for reading this week's Destiny Architecture Blueprint! This is the newsletter for content creators interested in personal development. I'm Certified Transformational Life Coach, Certified 100-hour Meditation Teacher, & Usui Reiki Master Heather Larson, and I believe being a side-hustling content creator requires a ton of great self-care: Reiki, Yoga, Meditation, and more. So join me on this journey by hitting the "subscribe" button!
You can always support this newsletter by leaving a tip. 🙏