Reiki, Goals, & Content ⚡️ The Destiny Architecture Blueprint 6/20/22
Scroll down for tips for content creators about YouTube #shorts and find out why this could be a bigger game-changer than TikTok!
TL;DR
• Reiki is back at White Dove in Wichita on Saturday!
• Video tour of White Dove & the Reiki room
• Help with goal setting + Decluttering (because if you need energy to flow, it's gotta go! Clean your space!)
• Are YouTube #shorts better than TikTok?
• How to make YouTube #shorts
• The Destiny Architecture Podcast
• Info for hardcore Destiny Architects
Now let's get into another blueprint for content creators who love personal development, Reiki, yoga, & meditation 🧘‍♀️
Get Ready For Reiki!
I'm excited to see you Saturday from 11-4 at White Dove for chakra-balancing Reiki sessions!
⭐️ Reiki is now the same price—$40—whether you see me in person in Wichita or schedule your session online.
⭐️ Sessions will be 25 minutes, focused on chakra balancing, and cost $40.
⭐️ You can schedule and pay online ahead of time to save your spot! Walk-ins and cash welcome.
⭐️ Coaching sessions are complimentary in Wichita on 6/25 for new clients! Established clients can get in for $40 on 6/25 in Wichita! Coaching sessions will also be 25 minutes. We'll discuss your most pressing issue and develop your step #1!
Haven't been to White Dove in Wichita yet? Here's a tour!
Here's a Peak at the Reiki Room at White Dove!
I tore down the Reiki therapy room in October of 2020 unsure if/when I'd ever be back. There were so many uncertainties then. I stopped in over the weekend to clean, bless, and re-arrange the room ahead of next week's return to Reiki.
It felt SO GOOD to be back!
This world 🌎 needs healing, kindness, and balance more than ever. I hope to bring a little bit of that back to Wichita, starting on Saturday!
The Year Is Half Over, Need a Goal Reset?
Set Goals Based On Consistency + Create a Plan with COMET Goals (and SMART Goals). Get the download and start seeing your goals in a new light.
Doing some decluttering over the summer?
Declutter your home in 30-days with my step-by-step, one day at a time plan. Download your copy on Gumroad.
Not ready for the 30-day challenge? Feeling overwhelmed with your stuff? Start with these 8 Easy Asks on a free worksheet.
YouTube #Shorts Could Be Better Than TikTok!?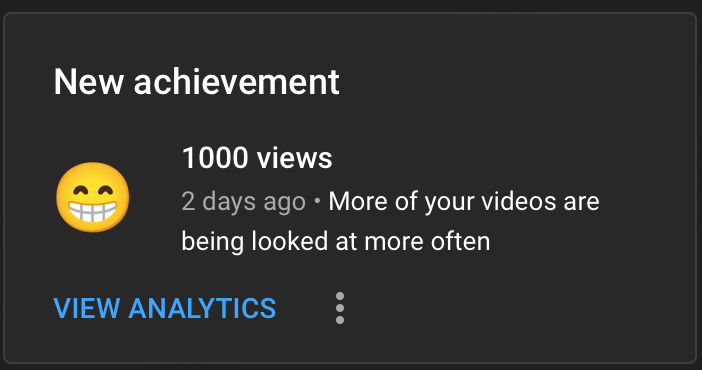 These are the insane numbers my little tiny YouTube channel snagged from last week when I started experimenting with YouTube #shorts.
By contrast?
I was getting a few views a month, probably from you—the people who are big enough fans to get the newsletter and keep following what I create.
Are Views Everything?
Look at all the views! Now what? I got a few nasty comments 🙄 and some OK ones. This experiment brought in three new subscribers though!
This is exciting because they aren't people I know—for the first time.
So YouTube #shorts is a TikTok knock-off and a great way to reach a new audience. At the time I'm writing this, the Destiny Architecture channel has 99 videos published.
YouTube experts have told me you don't have your breakthrough before your 100th video... They may be right. But they may or may not have factored #shorts into that advice.
I'm not the only one realizing there's more return from spending time on YouTube shorts. Check out what the founder of Blogilates has to say to Yahoo Finance.
How To Make YouTube #Shorts
All you need is a smartphone and the YouTube app.
Click on the + sign in the circle at the center (it's at the bottom of the app in iOs).
Click on "Create a short"
Then, the rest is similar to TikTok; hit the red "record" dot at the bottom and begin creating. Then, hit the white check at bottom right when you're done.
Add your text, sound, mess with the timeline, and add filters if you like. Hit next when you're done.
Caption your short, you don't have much space. I include "#shorts" in my description because I'm testing it out. YouTube feeds these videos automatically to its shorts feed though.
Select visible, audience, and your comments setting. Since I've gotten a few nasty comments 🙄 I'm selecting "hold potentially inappropriate comments."
Click the blue bar at the bottom that says "upload short." And you're done!
Learn more about my shorts experiment!
If your shorts do amazing, I want to know! Email me: destinyarchitecture@gmail.com
Still Prefer TikTok?
That's fine! The Destiny Architecture podcast features a ton of information on how often you should post, which hashtags you should use, and other TikTok tips.
You read this far? You must really love personal development for content creators, yoga, Reiki, and meditation!
This part is for the real O.G. Destiny Architects only 😉
Yoga Teacher Training Update: I passed anatomy! I'm on my way...Yoga coming soon!
Follow me on TikTok!
The expanded coaching menu is online now. I'm going to be adding two new options in the coming weeks: After Pay and Bitcoin payments. Yes, I'm a hardcore Bitcoiner. No, I don't care about the falling price.
After Pay is already available, so if you need help with an After Pay plan before I ✨officially✨ get it online, don't hesitate to reach out.
I'm on a mission to make coaching and Reiki more affordable in order to help more people.
Your first breakthrough session is FREE. I'm also offering monthly coaching sessions—1x/month, 25 min, for $40, in Wichita—with this available for the first time on June 25. Book now!
Coming next week...
I wrote online for 190 days in a row. I've been taking a break from that pace for the past week. There's much to unpack about putting oneself out there for 190 days in a row!
We'll unpack that next week...
-Heather Larson, Certified Coach and Reiki Master
destinyarchitecture@gmail.com