Decluttering, Reiki, & The Creator's Journey ⚡️ The Destiny Architecture Blueprint 10/10/22
Welcome to another edition of personal development for content creators with some good stuff to read on Reiki, meditation, health, content, and more.
TL;DR
• Join the decluttering challenge this month. 🧹
• 3 more Reiki boundaries practitioners of all levels need to have. 🙌  
• John Capello weekend in Wichita coming up. 🔮
• 10/29 is Reiki day this month, Save your spot. 🧘‍♀️
• YouTube Video of the Week: Using #Ship30for30 to find your niche as a content creator. 📺
• What does the creator's journey require? 🤔
• Are you ready to change your life? 💫
• Health & Wellness reads for the week. 📖
---
Join me in decluttering this month!
What I'm doing is getting rid of the amount of things to match the day. Today is 10/10, so I am decluttering 10 things today. By the end of the month, if you meet this challenge, you declutter by nearly 500 items from your home!
Obviously, this challenge becomes more difficult as you go.
Right now, I have 1 upstairs box and 1 downstairs box of items I can sell, donate, or give to friends. I'm filling them up slowly. I like this slow decluttering method because it's less of a fire drill and more of a daily evolution.
If you want to get started on a decluttering path, I've written a 30-day guide you can download on Gumroad.
I'm big on minimalism because downsizing into 500 sqare feet changed my life. It's less to take care of, clean, and organize. This means more free time, money, and productivity. Not to mention peace of mind.
But I've had to be vigilant on what comes into my space. I share some methods and tips in my eBook: Buy on Gumroad for just $3.33.
---
More on Reiki Boundaries
ICYMI the start of this series, you can catch up on Reiki Boundaries 1 & 2 here. D'oh! I left off the third one last week 🤦‍♀️ My apologies. Let's catch up.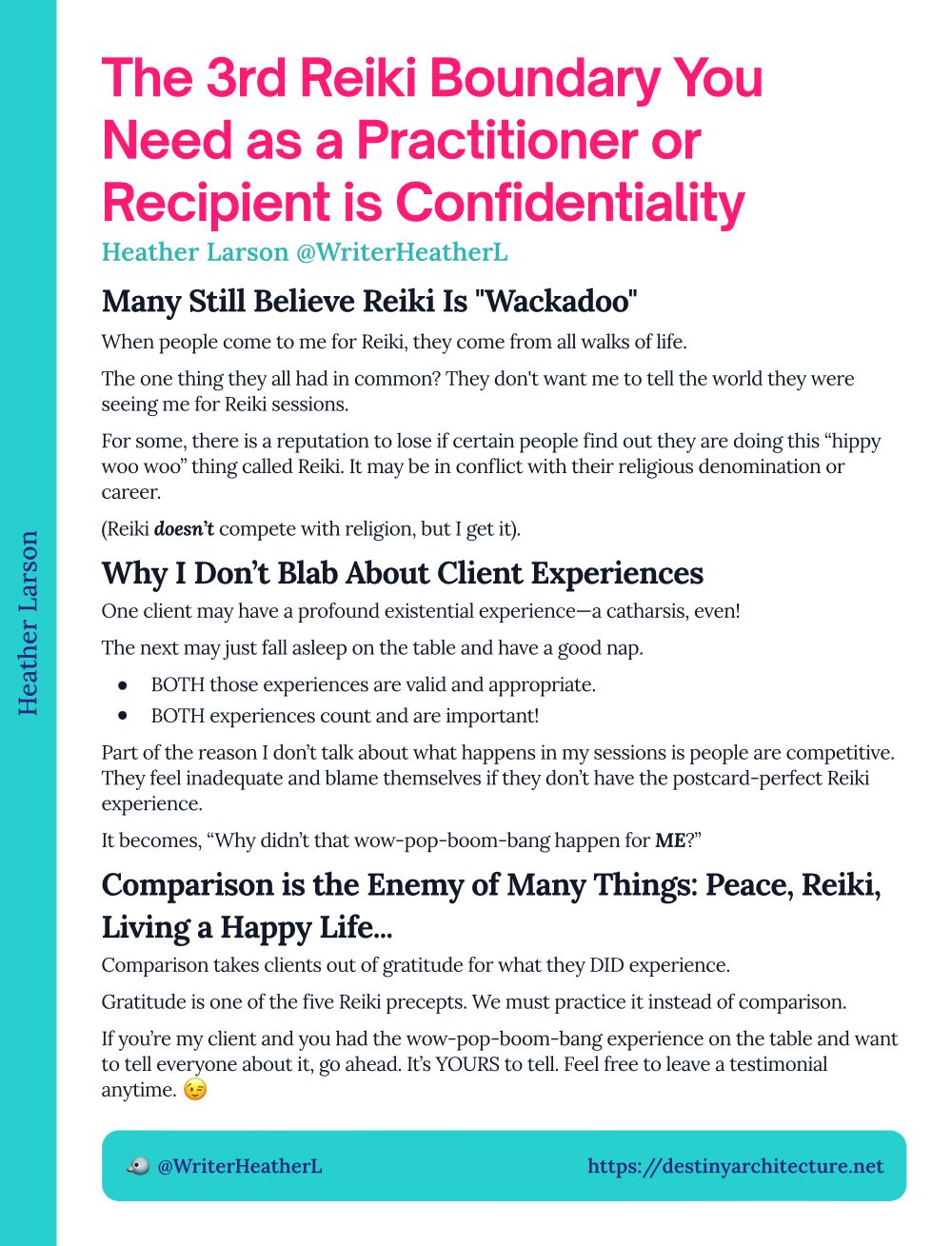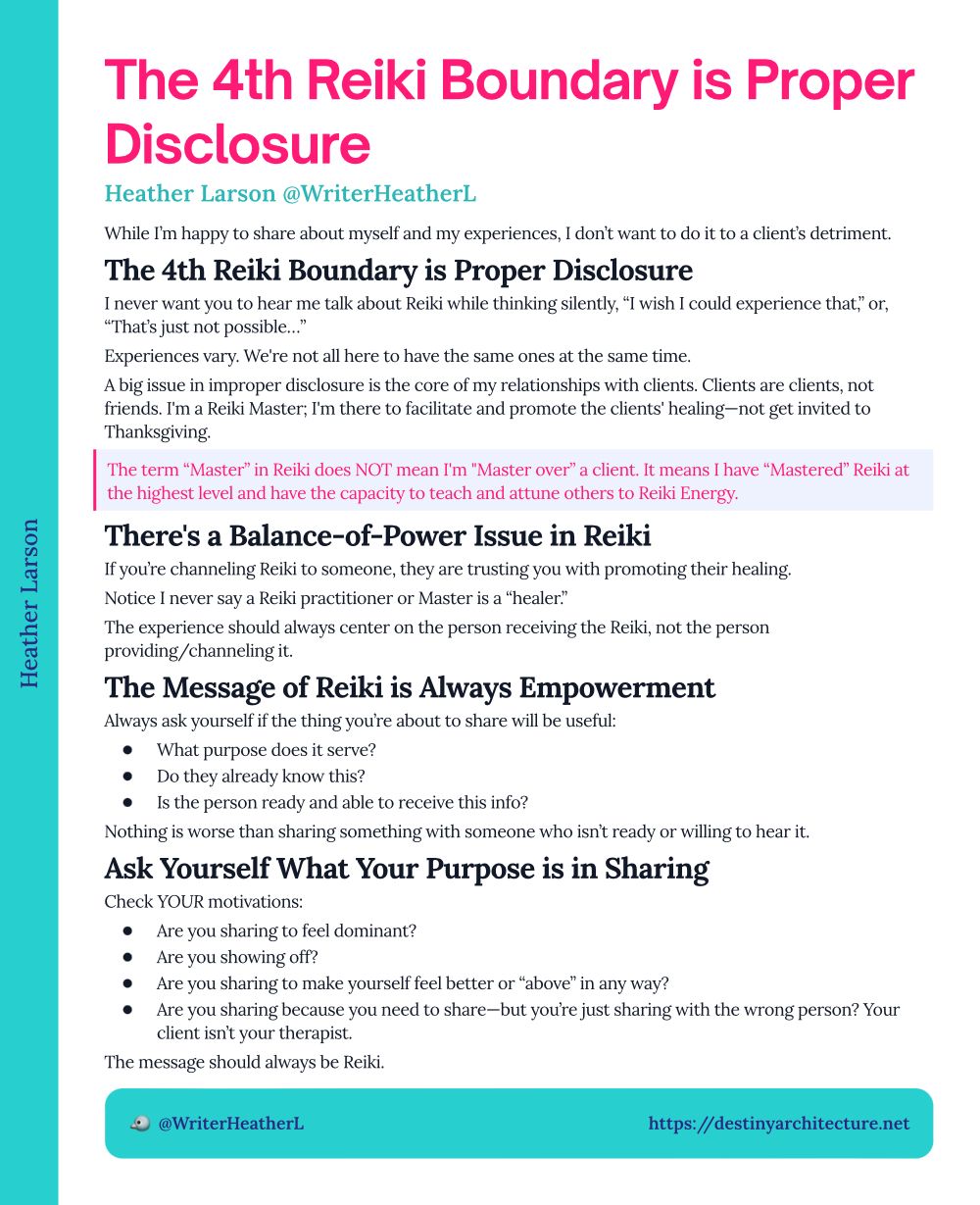 And now, the final Reiki boundary....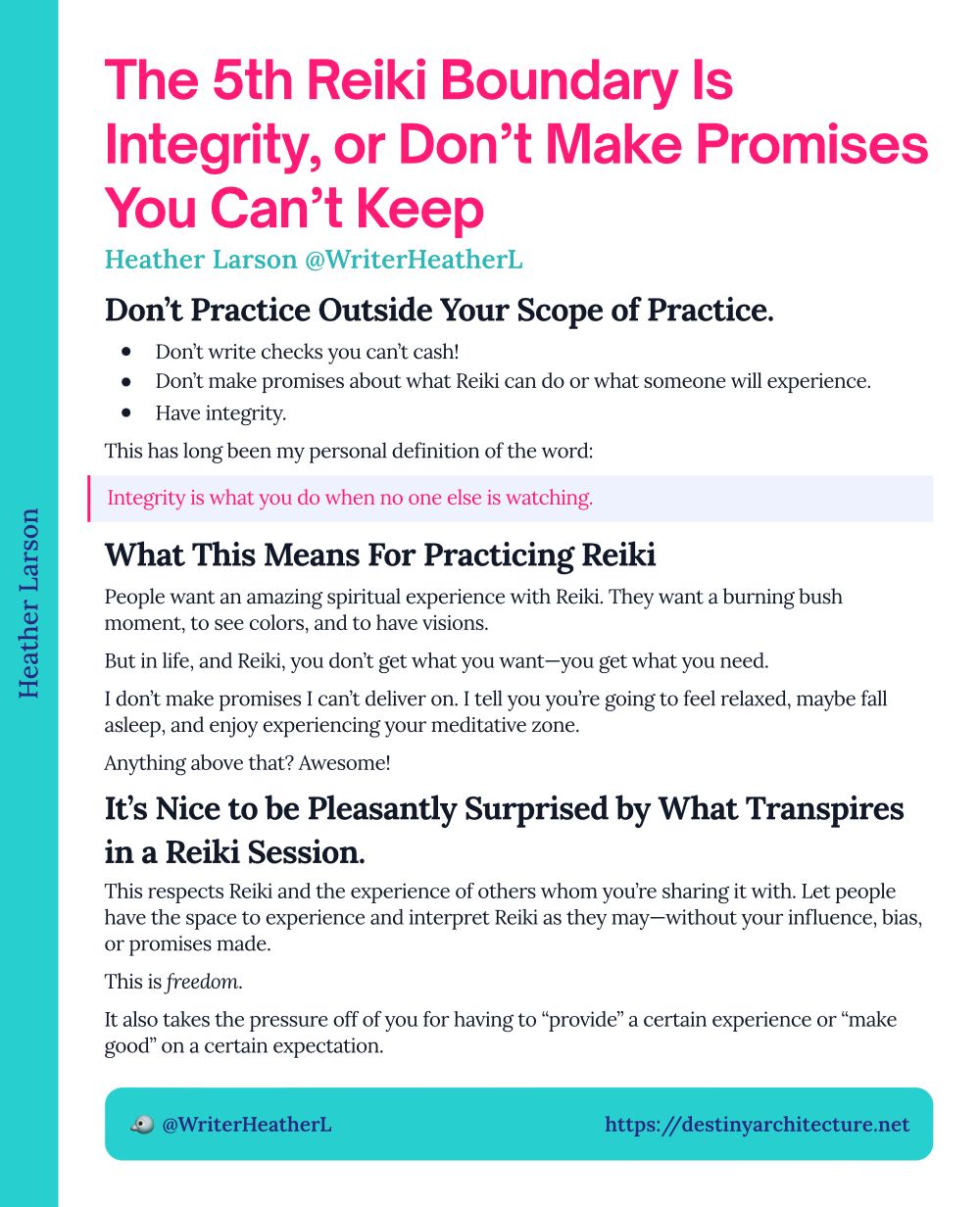 John Capello is Coming to White Dove Next Month

The first weekend of November, brings to White Dove the return of John Cappello, 2017 Psychic of the Year.  John has appeared at the store twice a year for over 10 years. He will be here from Friday, November 4th until Sunday, November 6th. Here is his schedule of events.

Friday & Saturday, November 4th & 5th -  John will be doing his ever-popular Spirit Gallery in which he gets in touch with those family members or friends who have passed on to the other side.  The Gallery starts at 6:30 pm and lasts until 8:00 pm each night.  The limit is 15 persons for each Gallery.  YOU ARE GUARANTEED A READING AS WELL AS TIME TO ASK QUESTIONS.  
The cost is $40 each.

Saturday afternoon/Sunday morning - Aura photographs - For those interested in getting their aura photographed.  Choice of full body, chakras, or head photograph.  The cost is $25 for one, $45 for two, or $65 for all three.

Saturday afternoon/Sunday morning - Private readings - Cost is $100 for a half hour or $195 for a full hour.

To book your reservations for any of the above sessions, simply call White Dove at (316)262-3683 🕊
---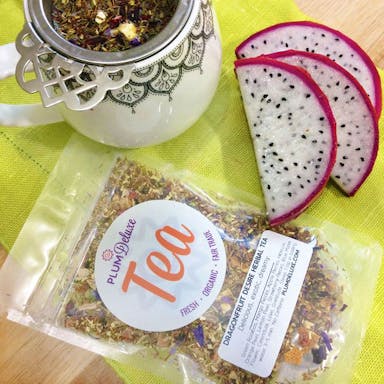 Plum Deluxe TeaPlum Deluxe is well known for its tea of the month club, the leading tea subscription and one of the most well-liked "surprise and delight" subscriptions.Subscribe today to get 20% off!Powered by Swapstack
---
October Reiki Day at White Dove
Reiki day falls on October 29 this month from 11-4. Receive 25 minutes of Reiki for $40 in Wichita at White Dove on the final Saturday of each month.
We'll be balancing your chakras, providing relaxation, and helping you along your spiritual journey.
You can call White Dove to book (316-262-3683), simply walk into the store that day, or you can reserve your time online (and pay ahead) by booking at this link.
---
YouTube Video of the Week: How to Find Your Niche as a Content Creator Using Ship 30
😂 I went through a phase of looking as exaggerated as possible for YouTube thumbnails. I rather enjoy it, so maybe I'm still in it... 😉 Catch up on the Destiny Architecture podcast.
---
The Creator's Journey and What it Requires
Being a creator requires curiosity, self-esteem, and dedication. Joining the creator economy requires a thick skin, bravery, and just a touch of insanity.
There's another track we don't talk about enough: self-care.
At Destiny Architecture, I don't just teach being a creator without the self-care to back it up.
This path can be lonely, yet thrilling. But when you put your creativity out into the world, you need the right kind of energy in your life.
It's easy to become burnt out as a creator and/or side hustler.
This is why I always teach about Reiki, yoga, and meditation—while providing coaching. Taking a personal development path while on the creator path should be concurrent.
There should never be a fork in the road where you're faced with choosing one over the other. The two paths must feed each other. Engaging in the best self-care possible will feed your journey as a creator. Being creative and putting your work out there will demand self-care.
So please, this week, find ways to put yourself first.
Design a self-care routine. It doesn't have to include All The Things, like Reiki, yoga, meditation, coaching, and so on. Just find one practice or habit this week that grounds and centers you so you can be your best creative self.
---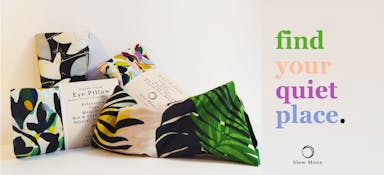 Slow Moon — Find Your Quiet PlaceSlow Moon eye pillows help rest tired eyes, stimulating the oculocardiac reflex and resetting your body. Handmade from organic cotton they are the perfect tool for deeper concentration.Find out more.Powered by Swapstack
---
Are you ready to change your life?
Ages ago I decided I'd offer coaching, Reiki, yoga, and meditation (among other things) in order to be able to help others in the way these healing modalities have helped me.
Why?
To help you become the architect of your own destiny. You can design a life you're in love with that you don't want (or need) to escape from!
It doesn't matter how busy you are. You can change; you have to. Change is inevitable. If you want to find clarity, direction, and a plan—fast—then coaching is for you.
A coach not only helps you create your perfect life design but also holds you accountable for creating your desired changes.
Get coaching anytime by booking a session directly into my calendar. What can we work on?
• Do you want help deciding on a new career direction or starting a side hustle?
• Do you want help as a newbie content creator?
• Do you just want to enter the creator economy somehow...you just aren't sure how yet?
• Do you want to get started with a Reiki practice (I offer distance Reiki, too).
• Does your life need to change and you don't know where to begin?
Remember, your first session is complimentary. If you're going through a financial hardship and need coaching on a sliding scale, please reach out via Open Path Healing Arts Collective.
---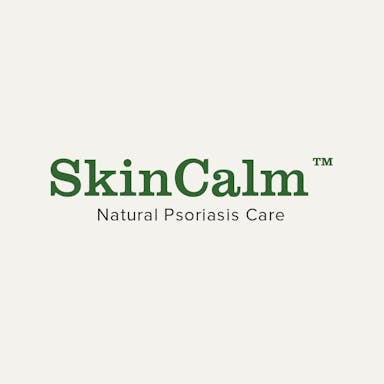 Dead Sea Salt Cream – Soothe your psoriasis instantly with our Dead Sea Salt cream. Proven to moisturize while providing soothing relief from itchy and flaky skin, our formula uses Dead Sea Salt, which reduces inflammation, along with a healthy dose of aloe vera and nigari to bring your skin the gentle relief it craves.Check it out!Powered by Swapstack
---
Fun Stuff I Read This Week
Spiritual TikTok? Yes! If you're into TikTok, here's more on the spiritual side of TikTok and how to find it if you haven't already.
Can yoga & mindfulness lower diabetics' blood sugar? This article says a new study's answer is "YES!"
Why do you get your best ideas in the shower? It's science! It's (now) proven!
---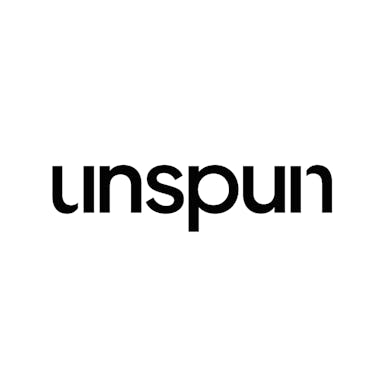 Custom jeans, right from your phone.Tired of searching for pants that actually fit? unspun is an ultra-sustainable denim brand, recently named one of Time's Best Inventions. They guarantee their $200 bespoke jeans will be your new favorite pair, and they're recruiting product testers to give early feedback in exchange for a $40 gift card — sign up above. Get your free $40 gift card! Powered by Swapstack
---
Thanks for reading!
Please leave a testimonial if you have the time or share this edition of the Destiny Architecture Blueprint with a friend. ♥️
~Certified Life Coach and Reiki Master, Heather Larson