🌟The BEST Ways To Grow on The Spiritual Path⚡️ The Destiny Architecture Blueprint 4/24/2023
Come to White Dove in Wichita, where I've been practicing Reiki since 2014 for some chakra-balancing Reiki on April 29th. Sessions last 25 minutes and cost $40. I accept cash, card, CashApp, and Bitcoin lightning ⚡️ payments.
The BEST ways to grow on the spiritual path...are kinda up to you. 😉 But I'll share what's working for me (and what stands the test of time).
One of the BEST-ever things is journaling. I've got a stack of little journals I've been keeping about wellness, stoicism, manifestation, and more. Those are just my physical journals! (Let's not bring up my digital footprint).
Why is this the best? Because we get to look back on where we've been when we keep these. I recently stumbled upon last year's journal/planners (scroll down in this page for a discount). I also opened up a pandemic-era journal from two years ago that was pretty revealing.
You don't get to see how far you've come if you don't keep the notes, plans, and playbooks of the past!
If you scroll down a ways in this newsletter, I share my beginner meditation journal nuggets I kept in early 2015 so you don't have to feel so bad about taming your monkey mind!
🙈 🙉 🙊
Here's a Discount for Subscribers to This Newsletter
If you can't read the next few lines, thank you for reading at DestinyArchitecture.net! Now, please subscribe to the free or paid newsletter and join the "club" of Destiny Architects!
My Favorite Thing I've Seen Lately!
When I say we are ALL creative and we are ALL creators, this is exactly what I mean. You never know what you have the capacity to create. It could be a Wizard Of Oz-themed RV! 👇  
Reiki Sessions This Saturday 11-4 at White Dove Wichita
Come to White Dove in Wichita this weekend! Sessions last 25 minutes and cost $40. I accept cash, card, CashApp, and Bitcoin lightning ⚡️ payments.
Walk-ins are always welcome. White Dove is located at 2947 E. Kellogg (on the frontage road). You can always call us at (316) 262-3683 or email me directly to hold your spot at destinyarchitecture@gmail.com.
---
This week's Destiny Architecture Blueprint is brought to you by Engage AI:
76% Off The First Month With Code SWAP23
Engage AI enables LinkedIn power users to write insightful comments, breaking the ice and building relationships with prospects in a fraction of the time. Engage AI is 15,000+ users strong since its launch in early January of 2023! Join other LinkedIn power users in using AI to start meaningful conversations and achieve faster conversions with every added touchpoint. Use Discount Code SWAP23 to save $23 in the first month and only pay the full $30 thereafter.
Get StartedPowered by Swapstack
---
"I don't know how to quiet my mind!" + Other New Meditator Freakouts
The absolute BEST part of this new blog post is that a friend was hitting me up about how hard it is to quiet the mind at the exact same moment I was writing this! ⬇️
I'm a Certified Transformational Life Coach
If you're ready to totally transform your life, we should talk!
Kids graduating? Feeling that empty nest syndrome coming on? Good—it's time for YOU. Now let's get you making the most of it! Get started by submitting the form on this page.
Last week's newsletter ⬇️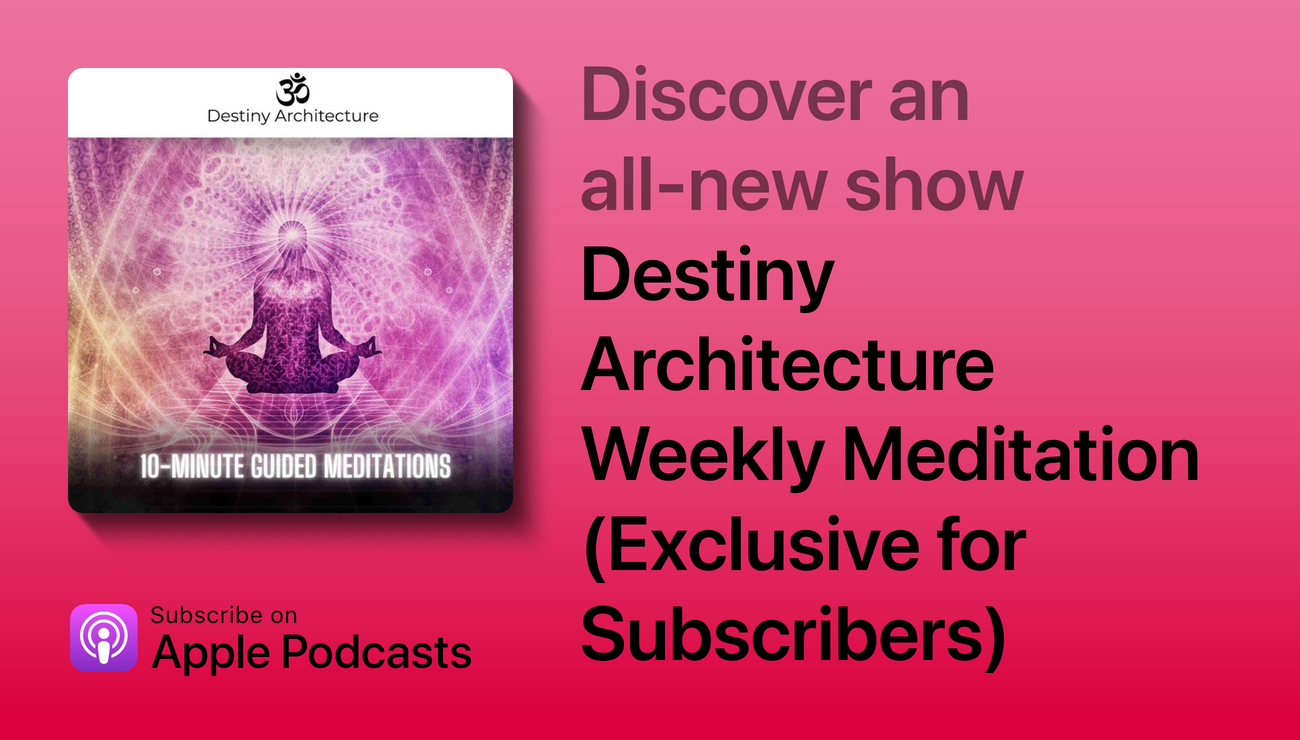 The Latest Meditation for Subscribers:

See all the previous guided meditations.
The best way to subscribe is to become a member at DestinyArchitecture.net because it costs the same as Apple or Spotify but you receive more benefits.
---
Learn about life coaching here.
Learn about meditation and give it a try. Sign up for the meditation membership here.
Listen to (and follow) 250+ episodes of the Destiny Architecture podcast.
Snag software discounts, my minimalism eBook, and more.
Need an eBook on personal development or a life coaching worksheet?
Have I helped you with something BIG in life? Spread the love and pay it forward with a testimonial! 😊
Find me on Open Path Healing Arts Collective for life coaching on a sliding scale.
Finally, if you reply to this email, I won't receive it that way. But you can email me at destinyarchitecture@gmail.com.
Thanks for reading this week's Destiny Architecture Blueprint! This is the newsletter for content creators interested in personal development. I'm Certified Transformational Life Coach, Certified 100-hour Meditation Teacher, & Usui Reiki Master Heather Larson, and I believe being a side-hustling content creator requires a ton of great self-care: Reiki, Yoga, Meditation, and more. So join me on this journey by hitting the "subscribe" button!